Archives by date
You are browsing the site archives by date.
By Hilary Nangle on June 22, 2010 | Leave a comment
Today, Wednesday, June 22, save 30% on ice cream and other menu items at Gifford's Ice Cream stands in Skowhegan, Farmington, Bangor, Waterville, and Auburn. Guests at the Skowhegan stand will also receive a free cupcake while supplies last.
Posted in Food, Kennebec and Moose River Valleys, Maine Highlands, Western Lakes & Mountains, Where to go | Tagged Deals, discounts, Gifford's ice cream, Ice cream, Maine | Leave a comment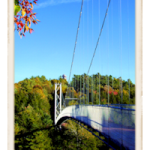 By Hilary Nangle on June 22, 2010 | 1 Comment
Drive northwest on Route 27, a Maine Scenic Byway, from Sugarloaf, in Carrabassett Valley, and after passing Flagstaff Lake and Chain of Ponds and passing through a tiny border crossing, you arrive on the eastern edge of Canada's Eastern Townships. I tend to think of the townships as New England north, but with a decidedly […]
Posted in Beyond Maine, Eastern Canada, Quebec | Tagged Coaticook, Coaticook Gorge, Coaticook Laiterie, Eastern Townships, Ice cream, Quebec, suspension bridge | 1 Response
By Hilary Nangle on June 22, 2010 | Leave a comment
Today, Tuesday, June 22, and tomorrow, June 23, are the days to be in Boothbay Harbor for the annual Windjammer Days celebration. Highlight of the two-day festival is Wednesday's arrival of Maine's windjammer fleet under full sail into the harbor, but there's plenty of other activities including boat tours, craft show, kids' events, concerts, parades, […]
Posted in Activities, Boating, Entertainment, Events, Mid-Coast, Where to go | Tagged Boothbay Harbor, Windjammer Days | Leave a comment