Resources
Portland Food Map: Everything you might want to know about Portland's restaurants and foodie community, with links to reviews, articles, events, and more.
Eat Maine Foods: Everything related to Maine foods, with maps detailing markets, farm stands, agritourism sights, restaurants serving Maine foods, and much, much more.
Get Real Maine: The state's site for promoting Maine foods and agriculture, with links for finding farm markets, foods, fairs, and events.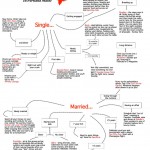 By Hilary Nangle on February 2, 2013 | Leave a comment
I love this flow chart, created by the good folks at Maine Restaurant Week, detailing suggestions for where to dine with your loved one on the big heart holiday. Maybe for 2014 they'll come up with one for the entire state of Maine. In the meantime, start planning and making reservations. And do think ahead, […]
Posted in Food, Greater Portland, Resources, Trip Planning, Where to go | Tagged Maine Restaurant Week, Portland | Leave a comment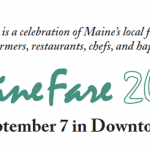 By Hilary Nangle on September 5, 2012 | Leave a comment
Here's a delicious way to spend Friday: Maine Fare, a celebration of Maine Food and Farming, bought to you by the good folks at Maine Farmland Trust. The daylong event (Sept. 7) takes place in downtown Belfast and offers everything from nibbles and tastes to a gourmet lunch and local plates dinners. The Farmers' Market […]
Posted in Activities, Entertainment, Events, Food, Maine Made, Penobscot Bay, Resources, Shopping, Trip Planning, Where to go | Tagged Belfast, Maine Fare | Leave a comment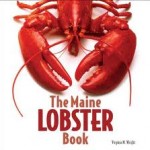 By Hilary Nangle on August 10, 2012 | Leave a comment
With Maine lobster in the headlines, it seems an appropriate time to share The Maine Lobster Book, by Virginia M. Wright, with you. If you're looking for the definitive quick study on all-things lobster, this is it. Wright covers everything you want, need, and don't want to know about Maine's famous crustacean, and does so […]
Posted in Food, Recipes, Resources | Tagged The Maine Lobster Book | Leave a comment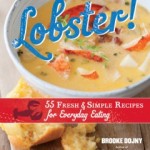 By Hilary Nangle on June 28, 2012 | Leave a comment
Cookbook author Brooke Dojny's done it again. Lobster! 55 Fresh & Simple Recipes for Everyday Eating (Storey, $14.95) is a summer must have for anyone who enjoys Maine's tasty crustacean. Dojny, who lives on the Blue Hill Peninsula, knows Maine and knows lobster. She draws not only from her own well of recipes but also […]
Posted in Food, Maine Made, Recipes, Resources | Tagged cookbook, lobster, recipes | Leave a comment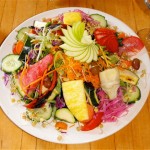 By Hilary Nangle on May 3, 2012 | Leave a comment
Health food stores and natural foods groceries, along with Asian, Indian, and Mexican restaurants, are the usual go-tos for on-the-road vegetarians and vegans. While many of Maine's restaurants, especially those specializing in farm-to-table fare, offer at least one vegetarian entree, only a handful of restaurants in the state deliver menus created for or catering to […]
Posted in Acadia, Food, Greater Portland, Mid-Coast, Penobscot Bay, Resources, Southern Coast/Beaches, Western Lakes & Mountains, Where to go | Tagged Bar Harbor, Belfast, Cape Nedick, Chase's Daily, Corsican Restaurant, Damariscotta, Eden Vegetarian cafe, Ellsworth, Frankie and Johnny's, Freeport, gluten free, Green Elephant vegetarian Bistro, Lewiston, Little Lad's, Norway, Pepperclub, Portland, Riverside Cafe, Salt Bay Cafe, She doesn't like Guthrie's, Silly's, Taste of Eden Vegan Cafe, vegan, vegetarian | Leave a comment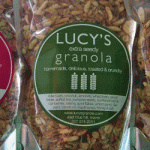 By Hilary Nangle on November 17, 2011 | Leave a comment
I spent the better part of the past five months noodling the highways and byways of Maine's Acadia region researching a new edition of my Moon Acadia National Park book for spring 2012 publication. As I noodled, I nibbled, and I wanted to share some of the must-have Maine-made foods that left me craving more. […]
Posted in Acadia, Food, Maine Made, Resources, Trip Planning | Tagged Bar Harbor, Black Dinah Chocolatiers, Blue Hill, Brooksville, buck's harbor market, Deer Isle, Ellsworth, Grindstone Neck of Maine, Isle au Haut, Lucy's Granola, Maine Needhams, Nervous Nellie's Jams and Jellies, Smith Family Farm, tinder hearth bakery, Winter Harbor | Leave a comment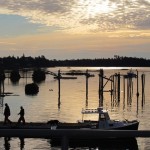 By Hilary Nangle on September 21, 2011 | 1 Comment
Most of my friends who live beyond Maine's borders think I live in the most ideal place. And they're right, to a point. But I think there's an even better place, and that's one of the islands off the Maine coast. Especially in autumn, when the crowds are gone, the light is soft, the air […]
Posted in Food, Inns & B&Bs, Lodging, Moon guidebook updates, Penobscot Bay, Resources, Sightseeing, Trip Planning, Where to go | Tagged Adam Campbell, Nebo Lodge, North Haven Island, organic farm, oysters, Turner Farm | 1 Response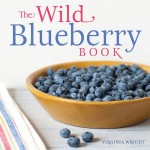 By Hilary Nangle on July 4, 2011 | 1 Comment
What's green, then blue, then red, then black all over? A Maine wild blueberry field through the seasons. Author Virginia M. Wright spills the berries about this delectable fruit in The Wild Blueberry Book. (Down East Books). Sure, the whoopie pie may have been selected Maine's official treat, but it's the wild blueberry pie that's […]
Posted in Food, Maine Made, Recipes, Resources | Tagged lobster and blueberries, Maine wild blueberries, recipes, The Maine Wild Blueberry Book | 1 Response