Browse:
Home
/
Portland Maine
By Hilary Nangle on January 5, 2010 | Leave a comment
Yup, he was here (and he got a taste for a Maine winter in addition to Maine fare). Reports are beginning to trickle in: In Portland, he visited Street & Co., J's Oyster, Duckfat, and one more, which one of my sources is trying to get today. In Rockland, he spent Saturday at Primo, then […]
Posted in Food, Greater Portland, Penobscot Bay | Tagged Anthony Bourdain, Bourdain in Maine, Maine dining, Maine restaurants, No Reservations in Maine, Portland Maine, Rockland Maine | Leave a comment
By Hilary Nangle on December 29, 2009 | Leave a comment
Just a few updates worth noting (and for most, the websites have yet to catch up): In York, the Chapman Cottage has, for the most part, closed its dining room to the public. It will remain open to guests on weekends in the off season, when it will be open to the public one night […]
Posted in Greater Portland, Mid-Coast, Moon guidebook updates, Southern Coast/Beaches | Tagged Brunswick Maine, Chapman Cottage, Dining, GEo's, Katahdin, Maine restaurants, Portland Maine, Scarlet Begonias, Walter's, York Maine | Leave a comment
By Hilary Nangle on December 19, 2009 | 2 Comments
Yup, it's true. The celebrity chef is coming to Maine in a few weeks to film a Maine show. He'll be visiting four Portland restaurants and two in Rockland (one of which likely will surprise you), and, my source says, he plans to film something, perhaps a bean supper, inland.
Posted in Events, Food, Greater Portland, Penobscot Bay | Tagged Anthony Bpourdain, Bourdain in Maine, celebrity chef, Maine restaurants on TV, Portland Maine, Rockland Maine | 2 Comments
By Hilary Nangle on December 18, 2009 | Leave a comment
…and government subsidies. The Cat, which ran between Bar Harbor and Yarmouth, N.S., and Portland and Yarmouth, N.S., has made its last run. The Canadian government has pulled funding from the high-speed summer ferry, which it has underwritten since its debut. The Cat made looping through downeast Maine and Maritime Canada easy, cutting endless hours […]
Posted in Beyond Maine, Eastern Canada, Moon guidebook updates | Tagged Bar HArbor Maine, Ferry cancelled, Maine to Nova Scotia ferry, Portland Maine, The Cat ferry, Yarmouth Nova Scotia | Leave a comment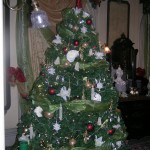 By Hilary Nangle on November 21, 2009 | 1 Comment
Yes, the holidays are coming and I can think of no better way to get into the spirit of the season than with a tour of Portland's Victoria Mansion all dressed in holiday garb. The National Historic Landmark, a Victorian treasure, opens for self-guided tours on Friday, Nov. 27, and remains open through Jan. 3. […]
Posted in Events, Greater Portland | Tagged Christmas at the Victoria Mansion, Christmas decorations, National Historic Landmark, Portland holiday, Portland Maine | 1 Response
By Hilary Nangle on November 10, 2009 | Leave a comment
I came across this news while doing the final fact check for the new edition of my Moon Coastal Maine guidebook. Havana, one of Bar Harbor's top restaurants, plans to open on Wharf Street, in Portland in spring 2010. In doing a bit of online research, it appears that Cassady Pappas, who participated in this […]
Posted in Food, Greater Portland | Tagged Havana in Portland, Havana restaurant, Maine dining, Michael Boland, new restaurant in Portland, Portland Maine | Leave a comment
By Hilary Nangle on October 3, 2009 | Leave a comment
I can't think of a spookier place to listen to creepy tales than Portland's Victoria Mansion. Double-dog dare you to take part in this spooktacular night of horror, Friday, Oct. 16, when Tales of Terror returns. Storyteller Lynn Cullen will read three bone-chilling stories: A Bottle of Perrier, by Edith Wharton; Moxon's Master, Ambrose Bierce; […]
Posted in Events, Greater Portland | Tagged gas-light mansion tour, horror stories, Lynn Cullen, Portland Maine, Tales of Terror, Victoria Mansion | Leave a comment
By Hilary Nangle on August 29, 2009 | Leave a comment
Lucky me, I got to taste one of DeansSweets dark chocolate salt caramels (also available without salt, but really, why?). Oh my, they're good! He's still tinkering with the recipe, and not selling them yet, but you might be able to nibble a sample. Better yet, encourage him to hurry up and make them available […]
Posted in Food, Greater Portland, Maine Made, Shopping | Tagged chocolate, dark chocolate truffles, Dean's Sweets, Portland Maine, salt caramels | Leave a comment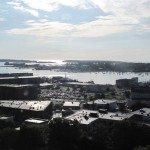 By Hilary Nangle on August 29, 2009 | 1 Comment
The Holiday Inn by the Bay is one of the ugliest buildings in Portland, but it also delivers  perhaps the best bang for the buck of any intown hotel. For starters, the Spring Street location is convenient to the Arts District and West End, and it's very walkable to the Old Port and Waterfront, making […]
Posted in Greater Portland, Hotels, Lodging, Moon guidebook updates | Tagged Holiday Inn by the Bay, Maine travel, Portland hotels, Portland lodging, Portland Maine | 1 Response