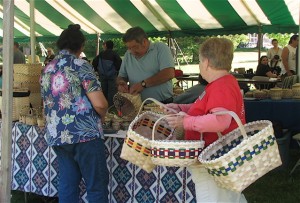 I love the Native American Festival, a one-day festival celebrating Maine's four Wabanaki tribes: the Mic-Mac, Maliseet, Passamaquoddy, and Penobscot. Not only is it an excellent introduction to Maine's tribal culture, it's also an opportunity to purchase ash and sweet grass baskets, intricately carved talking and walking sticks, jewelry, and more direct from the makers. During the day, tribal groups sing, dance, and drum, and there are other demonstrations and activities, as well as native foods.
The festival takes place under a tent on on the oceanfront campus of College of the Atlantic, on eastern fringe of Bar Harbor. That too, makes it special, as the campus has a museum, gallery, and  lovely gardens worth discovering.
The George B. Dorr Natural History Museum has kid-friendly, please touch displays of regional birds and mammals in realistic dioramas made by COA students. The Ethel H. Blum Gallery occupies a second-floor location that's kind of kitty-corner to the Dorr Museum. Exhibits rotate, so you never know what will be on view.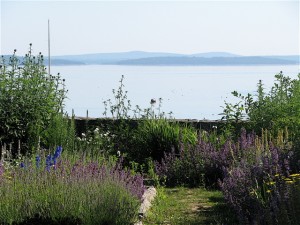 The Beatrix Farrand Garden was designed in 1928 as the prototype for the rose garden at Dumbarton Oaks, in Washington, D.C. It's now undergoing restoration, and is provides a quiet escape from the festival fun. The other garden is The Turrets Sea Side Garden, on the oceanside of a magnificent 1895 seaside "cottage" that's now a college administration building. Adjacent to The Turrets is a sunken garden.
The festival is presented by the Abbe Museum, with campuses in downtown Bar Harbor and at Sieur de Monts Springs in Acadia National Park. Do yourself a favor and visit the museum, too. It's especially kid-friendly and rich in exhibits documenting Wabanaki heritage in Maine.
One hint: If you're serious about purchasing baskets or other hand-crafted goods, go early. Collectors—I even spied Martha Stewart there one year—often snap up the fanciest baskets by the renowned makers right at opening.