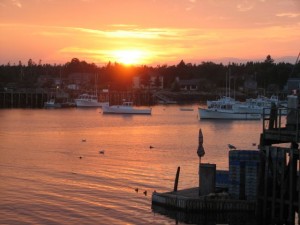 Whenever I visit Maine's Schoodic Peninsula, home to the only mainland section of Acadia National Park, I also detour out to Corea, a lobstering village in the town of Gouldsboro. Corea tips a peninsula that until 2002, was also home to a Navy base. Now it's a sleepy spot with dreamy views: The boat-filled harbor seems straight out of a calendar page.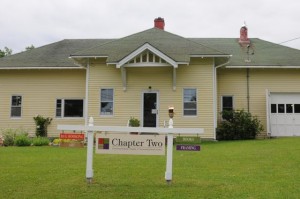 Rosemary and Gary Levin's gallery-shop is a multi-faceted find for book and art lovers. It comprises the main building, filled with fine craft mingled with antiquarian books along with space for workshops conducted by Rosemary and visiting artists.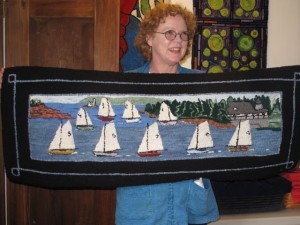 The adjacent Spurling Gallery displays more artisan crafts, including Rosemary's hand-hooked rugs.
Behind the shop is The End, a garage filled with bargain books, as well as a short nature path.
Chapter Two is a browser's delight, and I rarely leave without purchasing something or gaining tips for local hikes from Garry.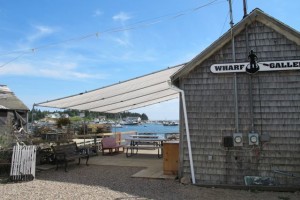 A dirt lane just beyond the Post Office leads to a small grouping of somewhat ramshackle fish shacks hanging over the harbor. The first of these has been spruced up to house the Corea Wharf Gallery, which displays historic photographs of Corea, created between 1940-1960 by Louise Z. Young. Born in Corea in 1919, Young was a friend of painter Marsden Hartley, and took many candid photographs of him around the area. She also worked with noted photographer Bernice Abbott. Also here are artifacts from Corea's history, especially ones connected to fishing.
The gallery also sells hot dogs, lobster rolls, and homemade potato chips (!). Savor the food along with the views from picnic tables on the wharf overlooking the harbor. Heaven!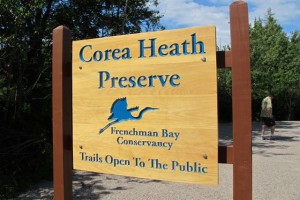 In 2008 Frenchman Bay Conservancy purchased 600 acres of land known as the Corea Heath, and that summer volunteers began cutting trails. Heath is a local word for peat land or bog, and this one is a rare coastal plateau bog, distinguished because it rises above the surrounding landscape. It's a spectacular property, with divergent ecosystems including bogs, ledges, and mixed-wood forest. Natural features include pitcher plants, sphagnum mosses, rare vascular plants, and jack pines. It's a fabulous place for bird-watching too, and the preserve borders a section of the Maine Coastal Islands National Wildlife Refuge.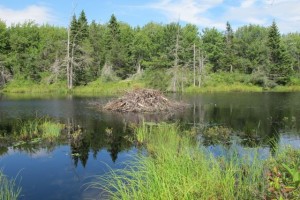 The easy 1.25-mile lollipop trail loops down to a bog with a beaver lodge. Work on the trail is in progress, and boardwalks have yet to be constructed over a few wet places, so wear boots or try to edge around the water (not easy, I sunk down to my ankle on a spot that looked dry enough to hold me) or prepare for wet feet. Do wear bug dope. Although I hiked in mid day, I imagine the wildlife watching here would be spectacular nearer to sunrise and sunset. When we visited, we were the only ones in the preserve.
While there are no inns  in Corea, two nearby ones are among my favorites in the state: Elsa's Inn on the Harbor and Oceanside Meadows. Neither is fancy or fussy.