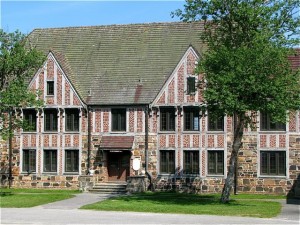 Wondering what's up at SERC, the Schoodic Education and Research Center, based on a former Navy base, in the Schoodic section of Acadia National Park, near Winter Harbor, Maine?
First things first: The Schoodic Education and Research Center, one of 20 throughout the country, is the largest center and the only one in the Northeast. It's located on 100 acres within a 2,400 acre section of Acadia National Park's Schoodic section. SERC is designed: "to expand the role of research within our national parks; allow for more informed, science-based management decision-making; and share research results with researchers, local communities, students, educators, and the public."
Supporting role: The nonprofit Schoodic Education and Research Center Institute (originally Acadia Partners) supports the center. The institute's mission is "to guide present and future generations to greater understanding and respect for nature by providing research and learning opportunities through its outstanding Acadia National Park setting, unique coastal Maine facilities, and innovative partnership programs."
Got that? Not quite sure which organization does what? Want to know more about both? Two upcoming programs provide an inside look. Both are free, but donations will be accepted at each.
Mike Soukup, SERC Institute president and chief executive officer, and Abe Miller-Rushing, science coordinate for Acadia National Park, will discuss SERC's programs and themes during a program on Friday, Feb. 18, 2011, from 9:30 to 11 a.m. A light breakfast will be available.
Join a  walking tour highlighting recent changes on the SERC campus on Tuesday, Feb. 22, 2011, from 11:00 a.m. to 12:30 p.m. Participants should meet at Moore Auditorium. The tour  will be followed by a brown bag lunch; bring your own food and drink.