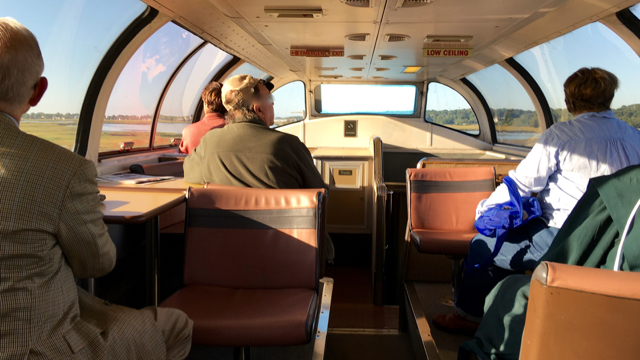 Views, views, views! Amtrak's vintage dome car is back Aug. 17-Sept. 24, 2017. There is no extra fee for riding on the upper level of the glass-domed car on select Amtrak Downeaster trains, but seats are on a first-come, first served basis, with riders encouraged to rotate in and out to allow everyone to experience it.
I rode in this car when it made its Downeaster debut in 2016, and it's a must-do experience for train buffs and anyone who wants to see the scenery from an elevated position.
2017 Downeaster Dome Car Schedule
In 2017, the 1955 Great Dome rail car will operate Aug. 17-Sept. 25, Monday-Friday on trains 682, 683, 688, and 689 on weekdays; Saturday on trains 692, 693, 696, and 697; and Sunday on trains 690, 692, 698, and 699.