Camden's a pricey town. Ditto for neighboring Lincolnville. Sure, there are some nice and more reasonably priced motels, but if you want something a wee bit special, you're going to have to pay dearly for it. Except…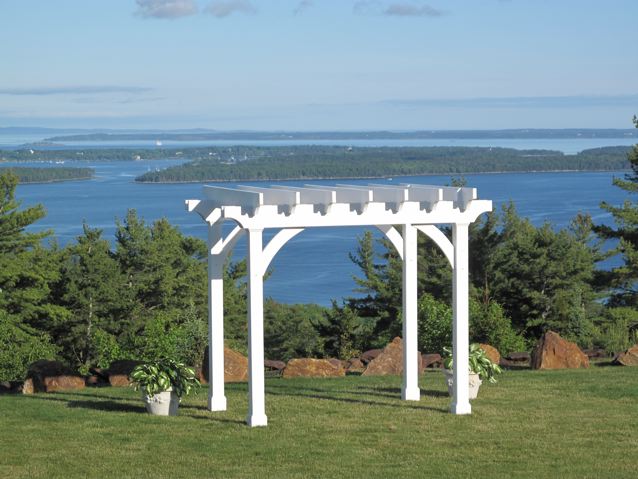 Point Lookout. This is the resort and conference center developed on Ducktrap Mountain under the old Charlie Cawley/MBNA (Money Buys Nearly Anything) days. Yes, it was controversial, to say the least. Yes, it resulted in hard feelings in the greater community. Yes, for years the gates were locked and it was an us (meaning gotta  have big bucks) against them (you little people, in the Leona Helmsely sense). But trust me on this, forget all that.
This stunning facility is now open to the community. The gates are wide open. The to-die-for views are shared. The world-class (honest!) fitness facilities are open and shared, too. The views from the summit over Penobscot Bay stretch from the outer islands to Mount Desert. Now add a fitness facility worthy of Olympic athletes in training (easily the best in the state; beyond the endless aerobic equipment, there is a full gym, racquetball and squash courts, virtual golf, aerobics room, and so forth). And a bowling alley. And a regulation soccer field with artifical turf. And a softball field. And hiking trails. And… well, you get the picture.
And yes, it's all open to the public. Sure, you'll pay to use the fitness facilities, but bowling is only $3 per game–a great alternative for a yuckola day. There's even a small restaurant serving breakfast and lunch, and at times, the restaurant at the summit serves brunch and/or dinner.
Now here's the cool part. Also part of the complex are 106 one- to three-bedroom cabins in the woods–think Ralph Lauren does summer camp: leather chairs, comfy beds, white pine interiors, air conditioning and heat, some with fireplaces/stoves, all with screened porches. Some have wet bars, others full kitchens.
Here's the deal: All rent at per cabin not per person rates. In the off-peak season (through late June and again after foliage, those rates begin around $125 per night). In peak season, rates for a two-bedroom/two-bathroom cabin being around $290.  Oh and every cabin has its own free Wifi.
If you're traveling with another party or extended family, since the price is per cabin, it's a good deal in a great location with to-die-for views from a few key locations. And one last note: Don't be put off because it's a conference facility. This spreads out on more than 100 acres, so there's plenty of room to avoid the name-badgers.