Add a little art and culture to your Maine summer vacation with one of these exhibits or special programs: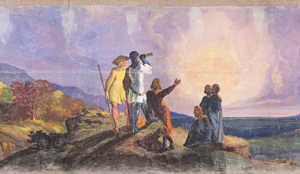 More than 15 years of research and restoration have gone into the Moving Panorama of Pilgrim's Progress, a rare treasure of American art created in 1851. For the first time since the 1860s, the entire historic panorama–800 feet of vibrantly painted muslin canvas, in four sections–is on view in two downtown locations, the Saco Museum and the historic Pepperell Mills. Fewer than 15 other moving panoramas still exist, and none are as complete, large, or impressive as this one.
The panorama, which predated motion pictures, debuted in New York's Washington Hall in 1850, playing to full houses for six months. During that period, nearly 200,000 people, roughly a third of the city's population, paid 50¢ each to view the performance. Because it was so popular and such a financial success, a second version was created to travel the country. After being shown in York County, Maine, it wasn't booked again, so it passed through local hands until donated to the Saco Museum (then the York Institute). It was exhibited in 1897, then disappeared, lost in the museum's collection until rediscovered in 1996, nearly 100 years after it was last seen.
Gallery talks and family activities will complement the exhibition, including a day-long public symposium with distinguished scholars scheduled for September 21-22, 2012.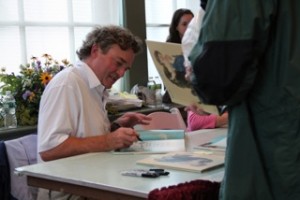 Wyeth shows this summer at the Farnsworth Museum include Andrew Wyeth: Summers in Port Clyde, Watercolors from the 1930s and early 1940s,  and Jamie Wyeth, Rockwell Kent and Monhegan, through Dec. 30.
Catalog signing: Beginning at 2 p.m., Jamie Wyeth will sign copies of the exhibition catalog for Jamie Wyeth, Rockwell Kent and Monhegan, on view through Dec. 22.
The Parallel Lives of the Wyeths and the Roosevelts: David Michaelis, author of N.C. Wyeth: A Biography will be interviewed by Farnsworth Director of Education Roger Dell beginning at 6 p.m. in The Strand Theatre, across from the museum; admission is free.
Over a century ago, two larger-than-life dynasts, Theodore Roosevelt and N.C. Wyeth, each through his own far-reaching vision of America, inspired the new industrial nation to reach far beyond the vanishing frontiers of the old agrarian republic to grasp the dream of empire. The relationship between father and son, so central to the collective American imagination and to the achievements of these passionate and powerfully creative clans, set the stage for controversial family dramas, myth-making, and great dreams that illuminate and complete our understanding of the Wyeths and the Roosevelts and the changing nation they brought to new life. The interview will be followed by a question and answer period.
Celebrate the 150th anniversary of novelist Edith Wharton's birthday along with her connections to Mount Desert Island.  Edith Wharton in Maine, presented by College of the Atlantic faculty member Karen Waldron, will take place in the Gates Community Center on the COA campus on July 12 at 5 p.m. The program is free.
In books such as House of Mirth and The Age of Innocence, the Pulitzer-prize-winning Wharton reflected with dramatic irony on the world of high society at the turn of the 20th century. Though she was raised in New York City, and had a summer home in Lenox, Mass., Wharton spent time in Bar Harbor, particularly visiting her niece, the acclaimed landscape architect, Beatrix Farrand.
Want to know what's happening arts- and culture-wise in way Down East Maine and over the border in New Brunswick, Canada? Check CulturePass.net, a directory of organizations, libraries, historical societies, galleries, studios, and creative businesses including literary, performing, and visual artists, and traditional crafts people. New this season is Artsipelago—Two Countries, one Bay, a website and printed guide.