Here's a round-up of events and activities that have crossed my desk. A few are happening now, some a bit later this month, and a few are included as a heads-up, make plans now notice.
Now playing
• Tough Mountain Challenge at Sunday River
Want to get down and dirty? Sunday River promises "blood, mud, and beer" at this Saturdays Tough Mountain Challenge, at the Newry resort on Saturday, July 21. The 5 km obstacle course sprinkled with challenges including running snowguns, barbed wire, mud pits and fire, has drown 2,500 pre-registrants this time, up from 1,000 last year. Competitors will leave the South Ridge start area beginning at 10 a.m., with 100 racers departing every 15 minutes until 3:30 p.m. Best viewing points are the South Ridge and Barker Ridge base areas. Complementing the event are a DJ, live music, outdoor barbeque, and beer garden. The weekend coincides with Bethel's annual Mollyockett Days, family festival, with food, arts and crafts fair, foot race, and fireworks.
• Alex Katz: Maine/New York, through Dec. 30, 2012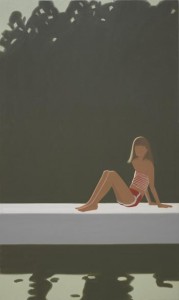 The Colby College Museum of Art, in Waterville, holds the world's largest collection of works by American painter Alex Katz. This exhibition, drawn from that collection and loans an curated by Katz expert Carter Ratcliff, features 28 paintings and one multipart sculpture, and is accompanied by a catalog. Katz's relationship with Maine began when he attended the Skowhegan School of Painting and Sculpture. The New York artist now spends much of his summer in Lincolnville.
Complementing the exhibition is Interior Visions: Selections from the Collection by Alex Katz, a special installation of Colby's permanent collection, selected and arranged by Katz (on view through Oct. 7, 2012). Museum admission is free.
Coming Attractions:
• Barbara Ernst Prey: America's Artist, 40 Years of Painting, July 20-Aug. 31, 2012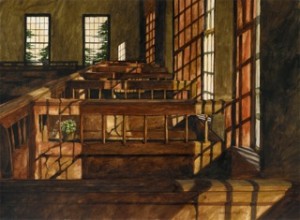 Thirty never-before seen watercolors, dry-brush, and oil paintings by Barbara Ernst Prey, along with some of her early works for The New Yorker Magazine will be exhibited at Blue Water Fine Arts, in Port Clyde. Prey's works are included in major public collections including the Smithsonian American Art Museum, the New York Historical Society, The National Endowment for the Arts and The White House and her paintings are on exhibit at The White House, The Kennedy Space Center and United States Embassies worldwide.
• Ossipee Valley Music Festival, July 26-29, 2012
Celebrate Americana, roots, bluegrass old-time country, rockabilly, jazz, Celtic, folk, and other music at the Ossipee Valley Music Festival, in Hiram. The jam-packed schedule includes more than 40 hours of live music on two stages performed by more than 30 national touring and regionals musicians. Another highlight is the New England Song and Flatpicking Championships.
Scheduled to perform this year are Tommy Emmanuel Blue Highway, Claire Lynch Band, The Boxcars, Missy Raines and the New Hip, The Hot Club of Cowtown, The Parkington Sisters, Fred Eaglesmith and the Fabulous Ginn Sisters, Town Mountain, Miss Tess and the Bon Ton Parade, SHEL, The Dirt Daubers, The Defibulators, Cahalen and West, Cribstone Bridge, Tricky Britches, Susie Burke and David Surette, Loren Barrigar & Mark Mazengarb, The Bagboys, Three Tall Pines, and Chasing Blue.
Advance tickets are $85 for three days, $95 for four days; gate prices are $105 three days, $115 four days; individual day prices range $25-50. Kids 17 and younger are free with an adult. Camping is available.
• Through the Eyes of America: New works by America Martin, Aug. 3-Sept. 12, 2012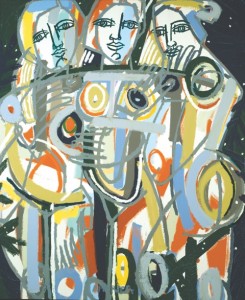 A solo exhibit of large-scale paintings by Los Angeles-based artist America Martin is now showing at Carver Hill Gallery in Rockland. In addition, Martin is introducing her sculptures to the East Coast. For this exhibition, Martin created images that speak to what she describes as her "Maine frame of mind," a state of mind that the artist says is inspired by "the sheer magnitude of Maine's natural beauty—a beauty that is almost a holy experience." The opening reception is 5-8 p.m. on Friday, Aug. 3; an artist talk is slated at 1 p.m. on Saturday, Aug. 4, with a question-and-answer session to follow.
Plan ahead:
• Saddleback Bluegrass Festival, Aug. 10-11, 2012
Bring lawn chairs or a blanket and settle down for some mighty fine bluegrass at Saddleback Mountain, in Rangeley, Maine. Performing this year are: The Travlin' McCourys with Michael Daves, The Sam Bush Band, The Gibson Brothers, The Red Stick Ramblers, Della Mae, The Hillbenders, MilkDrive, Tricky Britches, Chasing Blue, Local Circus, and 317 Main Street Ensemble. In addition to the music, the festival includes food vendors, a barbeque, and beer garden, in addition to a coffee bar and pub in the lodge. Tickets are $40 for both days through July 31, $45 after Aug. 1. Kids 12 and younger are free with a paying adult. Day tickets will be available at the gate. Camping, first come/first served is available for $5 per adult for two days, plus $15 for trailers and RVS over 25 feet (no hookups are available).
• Maine Boats, Homes & Harbor Show, Aug. 10-12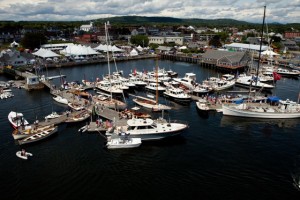 Love boats, then plan to attend this annual waterfront show in Rockland. You'll be able to board boats, view handcrafted works by Maine artists and artisans, and view displays of Maine-built boats ranging from rowing craft and kayaks to sailboats and poweryacht. In addition, there's food, live music, and some fun events, including the World Championship Boatyard Dog Trials, scheduled at 10:30 a.m. on Sunday, Aug. 12.Amdission is $12 at the gate; children younger than 12 are free. Advance tickets are available online through Aug. 1.
• Camden International Film Festival, Sept. 27-30, 2012
In eight short years, the Camden International Film Festival and Points North Documentary Forum has earned kudos as one of the top 25 international film festivals for documentaries and one of the 12 best small-town film festivals in the country. This year, the festival will screen more than 50 documentaries and shorts, followed by discussions with nearly all of the filmmakers. The forum, which runs concurrently with the festival, is a two-day networking session for New England filmmakers and industry poobahs. Last year, representatives from HBO, A&E IndieFIlms, the BBC, PBS POV, and Tribeca attended.
Opening and Closing Night films will be announced on August 15.  The entire film schedule, and list of events will be released before September 1.
Passes are now on sale. The two-day festival pass provides admission to all screenings and forum events. The VIP PAS also provides access to special parties and events. Early Bird Special prices ranging from $65-125 are available through Aug. 1, after that, prices rise to $75-150.
• Harvest on the Harbor, Oct. 24-27, 2012
America's Foodiest Small Town gets even food-centric during Harvest on the Harbor, a four-day culinary celebration. Returning events include: Grand Tasting on the Harbor, Maine Lobster Chef of the Year, Top of the Crop: Maine's Best Farm to Table Restaurant, and Savory Samplings at the Marketplace. New ones joining the line-up are the Cutting Edge: Culinary College Competition, a seafood soiree designed to showcase the next generation of talent rising through Maine's four culinary programs, and BBQ Brews & Blues, when grill masters will share recipes and techniques and the results will be paired with Maine craft beers. Tickets are on sale now; prices vary by event. If you don't want to be shut out, make reservations for both events and rooms now.