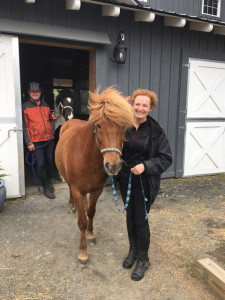 Here's a fun escape: Stay at the Hartstone Inn in Camden, Maine, and ride an Icelandic horse.
The Hartstone is perhaps best known as a destination for culinary travelers, who are drawn by the inn's stellar dining room and its cooking courses, but the Select Registry-member property is also prized for its easy elegance, comfort, and primo location in this coastal Maine town. Now inn owners Mary Jo Brink and Michael Salmon have added another incentive to visit: the opportunity to ride an Icelandic Horse.
Michael and Mary Jo fell in love with Icelandic horses on a visit to Iceland a few years ago. So much so, that when they returned to Maine, they purchased Pepper Hill Farm in South Thomaston, built a barn with an indoor riding area, and constructed miles of trails through woods and fields along with an outdoor track. Now, they're offering their guests as well as the public an introduction to their beloved Icelandics.
An introductory experience: Meet your Icelandic horse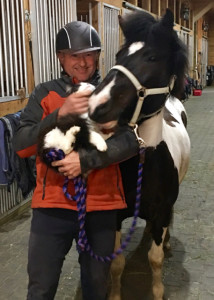 A few days after learning about the experience (over a chance encounter at McLoons, one of my favorite lobster shacks), I was being introduced to Jonas, an Icelandic horse.Truth is, it had been years (decades, perhaps) since I'd last been on a horse, but since I had some experience and met the age and weight requirements (minimum age 10, maximum weight 200 pounds), I was a good candidate for an introductory experience.
Icelandic horses aren't as large as most other breeds, and they're distinguished by their sure-footedness and their five gates. Most horses walk, trot, and gallop, but Icelandics, the only naturally five-gaited horse, can walk, tölt, trot, pace, and canter. It's the tölt, an especially smooth four-beat gait, and the pace, a two-beat racing gate in which all four hooves are momentarily off the ground simultaneously, that set them apart.
Jonas is just the sort of horse you want for an intro—he's gentle, easy going, and his only fault seemed to be wanting to grab mouthfuls of grass as we ambled along. After mounting via a  block (so easy!), and getting a few tips from Mary Jo, I made a few loops inside to get the feel of riding again. Once comfortable, I followed Mary Jo and Michael out on the seemingly endless looping trails behind the barn.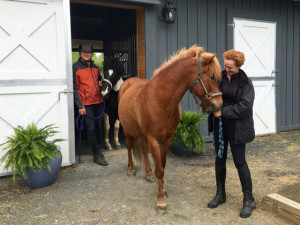 We started at an easy walk, and when I was ready, we shifted gears to a tölt, a rhythmic gait that I found more comfortable and far easier on the knees than a trot. "They can go for miles and miles in this gait," Mary Jo said.
Maybe Jonas could, but I was discovering a few muscles that hadn't been used in a long, long time. That said, I do want to ride Icelandics again, and am eyeing the weekly lessons for adults.
Details, details

The Icelandic horseback riding package at the Hartstone Inn includes two nights lodging, daily breakfast, and one five-course tasting menu dinner for two, along with a 90-minute intro to Icelandic horses at Pepper Hill Farm and a picnic lunch for two. Rates begin at $445.
The general public can experience the 90-minute intro for $75 pp. See details here.