PORTopera's Young Artists Program is presenting the first-ever performances of Café Vienna, an opera by American composer Richard Pearson Thomas. And it's not too soon to purchase tix to this year's Mainstage performance, either.
Café Vienna
Set in a Vienna coffee house circa 1907, Café Vienna tells the story of the intersecting lives of four of the shop's patrons in the city they love. Alternating between their real-life interactions and their inner thoughts, between love and lust, the opera follows the intricacies of relationships lasting a day and a lifetime. Through their introspection and interactions, the audience learns each one's deepest secret.
PORTopera Young Artists are selected through national auditions and are rising young singers on the cusps of major operatic careers. The program was created to support PORTopera's mission to bring opera to Maine's communities and to foster operatic talent from Maine and elsewhere. The Young Artist Program is sponsored in part by The Fritz and Lavinia Jensen Foundation and The Robert and Dorothy Goldberg Charitable Foundation.
July 7: PORTopera and Victoria Mansion partner for the first time to present Opera at the Mansion, a benefit Café Vienna performance that includes hors d'oeuvres and a cash bar. Tickets are $50 and can be reserved by calling the Victoria Mansion at 772-4841. The funds raised from this event will benefit PORTopera and the Victoria Mansion.
July 10: Café Vienna at the Temple at Old Orchard Beach. For tickets, call 207-934-9068.
July 15: Café Vienna travels to the University of Maine at Farmington's Merrill Hall, Nordica Auditorium as part of the Lillian Nordica Centennial. Tickets are available at Everyday Music or at the door
Plan ahead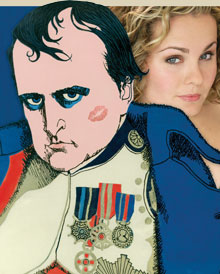 PORTopera is Maine's only opera company performing fully staged operas with nationally and internationally acclaimed artists. On July 28 and 30, PORTopera will present Donizetti's The Daughter of the Regiment (La Fille du Régiment), the sophisticated story of a young girl raised by a regiment in Napoleon's army, as its 2011 mainstage production. One of the outstanding examples of the bel canto (beautiful song) repertoire, the opera features many brilliant arias and ensembles, including the famous tenor aria with nine high Cs.
Even better, it stars Ashley Emerson, who grew up in Bangor and was a PORTopera Young Artist. She's sung at the Met, Seattle Opera, Opera Grand Rapids, and others and debuted in the title role in The Daughter of the Regiment at the Opera Theatre of St. Louis this spring. Purchase tickets here.