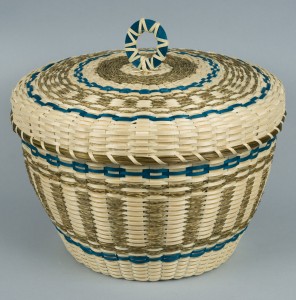 One of my favorite holiday events is the annual Maine Indian Basketmakers Sale and Demonstration. On Dec. 11, 2010, from 9 a.m. – 3 p.m., more than 30 Native American artisans from Maine's Penobscot, Passamaquoddy, Maliseet, and Micmac tribes will be selling their handmade ash-splint and sweetgrass basketry, demonstrating their craft, and singing, drumming, and dancing at the Hudson Museum, in the Collins Center on the University of Maine's Orono campus.
When the festival began in the mid 1990s, "all the traditions were endangered," says Gretchen Faulkner, director of the Hudson Museum. "Most of the basketmakers were in their 60s to 80s, and the traditions weren't being passed down. This was a way of encouraging the perpetuation of the traditions." The event complements the anthropological museum's exhibitions about Maine's Native Americans. Between the historical displays and live demonstrations, festival attendees are immersed in Maine's Native American ways.
Maine Indian basketry traditions date back thousands of years, as the Wabanaki people of Maine (the collective name for the four tribes) trace their creation story to the ash tree, from which basketmakers harvest wood for their art.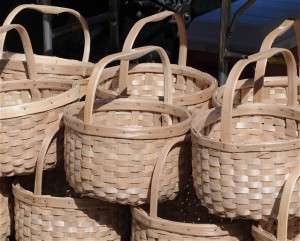 "It's the oldest art form in North America," says basketmaker Theresa Secord. "There are thousands of years of tradition behind it, and still only a handful of people practicing it." Secord, a Penobscot, is one of three award-winning basketmakers whose work is being highlighted at this year's event. Also in the spotlight are Molly Neptune Parker and Jeremy Frey, both members of the Passamaquoddy tribe.
"[The festival is] really a unique opportunity to come and experience a true celebration of Wabanaki culture," Secord says. "There really aren't other opportunities to come and see the array of artists and be able to purchase their work directly and also to see people doing traditional dancing, singing and demonstrations of their art."
It's an opportunity not only to purchase handcrafted ash and sweetgrass baskets, quill jewelry, woodcarvings, beadwork, dolls, talking and walking stick and birchbark work directly from their makers, but also to talk about the process with the artisans, many of whom demonstrate at their tables. That one-on-one conversation is what I think makes this event so wonderful.
The basketmaking process
Every basket starts as a tree that must be selected, felled, chopped, then pounded to separate the rings, striped, thinned, split, then scraped until it looks and feels like silk.  "As many as three or four people may have a hand in a basket by the time it's done," Secord says. Some specialize in finding and harvesting the tree; others in preparing the materials. Some gather sweetgrass; still others specialize in braiding it. "It's a community process; a community makes the basket," she says.
When Secord makes a basket, she weaves together more than ash and sweetgrass. She works on forms that have been in her family for generations, uses skills learned from her mentor, master basketmaker Madeline Shay, and draws on the collective wisdom of her ancestors and her community. "I like that. I like the help from my ancestors, not just in the physical presence of wooden forms, but also the history and spiritual presence of the basketmakers in my family," she says. "It all comes through in the basket: tribe, family, tradition."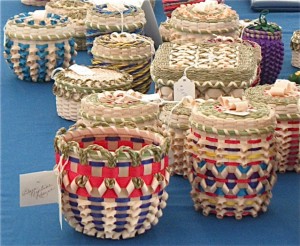 Tribe, family, tradition is a refrain that resonates throughout the festival, from the performers to the individual artisans. There are distinctions in the art forms that show in basketry styles, right down to family weaves and styles. Passamaquoddies and Penobscots are known for more embellishment and also for using sweetgrass. Micmacs and Maliseets traditionally craft bigger work and harvest baskets. But the distinctions are blurring.
Fancy baskets feature intricate patterns, specialty weaves, such as porcupine quills, and often are colored with natural dyes. Some are woven in unusual shapes, such as blueberries, strawberries, corn or acorns. Traditional workbaskets were designed for utilitarian purposes, such as potato harvesting, fishing and hunting, but most have evolved into decorative objects. The uniqueness and quality draw collectors from as far away as California, who prize both fancy and work baskets as art forms, yet anglers and hikers still purchase fishing creels and pack baskets for their intended uses.
Doors open at 9 a.m., and admission is free. Go early for the best selection, but plan to stick around for some of the demonstrations and special events.
Special events during the day include:
• 9:30 a.m., a traditional welcome with Penobscot Chief Kirk Francis and traditional greeting songs with Watie Akins of the Penobscot Nation
• 10 a.m., ash-pounding demonstration by Micmac Eldon Hanning, one of the few people in Maine with the knowledge to harvest and prepare ash from tree to basket
• 10-11:30 a.m., book signing with Penobscot author Charles Shay
• 10:30 a.m., fancy basket demo by Parker and her family
• 11 a.m., beadworking demonstration by Pemobscot Jennifer Sapiel Neptune and Passamaquoddy Gal Frey
• 11:30 a.m., birchbark wigwam presentation by Penobscot Barry Dana
• noon, carving demo with Penobscot master carver Rick Love
• 2-3 p.m., performance by the Burnurwurbskek Singers with traditional drumming
• 3 p.m. and a raffle for a basket made by Parker