Lodging in Maine's Western Lakes & Mountains region tends to be less expensive and less fussy and frilly than on the coast. Whether you're oohing and aahing at the foliage; skiing at Sunday River, Sugarloaf, or Saddleback; antiques shopping in Cornish; visiting Bates College in Lewiston; or touring the Sabbathday Lake Shaker Community and Poland Spring, there are decent rooms for less—often far less—than $100 per night, with rates usually including breakfast. Here are my picks for budget-friendly lodging in western Maine.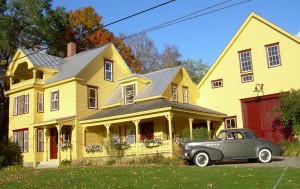 Three Stanley Avenue, Kingfield
Next door to One Stanley Avenue restaurant and under the same ownership, this antiques-filled Victorian (built by Bayard Stanley, younger brother of the famed Steamer twins) has been a B&B since the early 1980s. Three first-floor guestrooms have private baths; three second-floor rooms share two baths. It's all very welcoming, with comfortable wicker chairs on the front porch and a traditional gazebo (ex-bandstand) in the backyard. Rates include a full breakfast served at the adjacent One Stanley Avenue restaurant (the best in the area, by far). Don't expect anything fussy or frilly, and there is no public space, no living room or lounge in the B&B, but the location is ideal, and room rates begin at $70.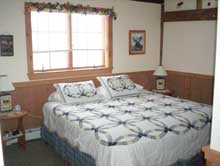 Tranquility Lodge, Stratton
You can launch a canoe or kayak into Flagstaff Lake from the backyard of this especially peaceful bed-and-breakfast in a converted 19th-century post-and-beam barn, located just north of Stratton village. Old farming tools decorate the walls, quilts top the bed, and there's a carriage suspended from the ceiling, which keeps the feel rural and rustic. Most rates include a continental breakfast. Free Wi-Fi.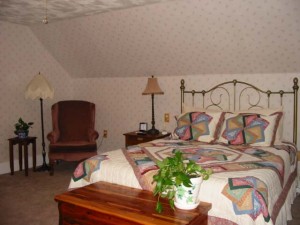 Paws Inn, Bethel
Carolyn Bailey and her sidekick, Sampson, extend a welcoming hand (and paw) to those traveling with pooches. Two  guest rooms are equipped with dog beds and/or crates, and there are a fenced yard and barn play areas, doggie snacks, and plenty of love provided. You only need bring food for your dog. Carolyn prepares a generous continental breakfast. It's two miles south of Bethel.
Bethel Village Motel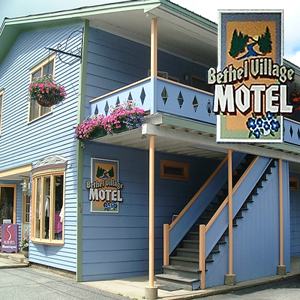 , Bethel
For clean, cheap, and convenient, check into this cheery motel, with a smack downtown, walk-to-everything location behind Ruthie's boutique. Rooms are pleasantly decorated, and all have a/c, TV, fridge, and Wi-Fi.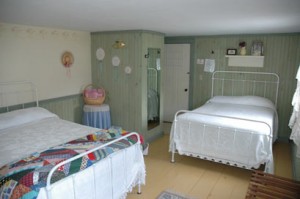 Morrill Farm Bed and Breakfast, Sumner
Step back in time and back of beyond at this late-18th-century farm, with three unfussy second-floor rooms sharing one bath. On the 217-working farm are nature/cross-country skiing trails, river fishing, and a menagerie of domestic farm animals. Pets are kenneled on-site for $15 a day. The farm is north and east of Norway/South Paris, a mile from Route 219 (West Sumner Road). French spoken.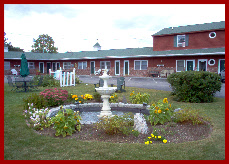 Midway Country Lodging, Cornish
Hard to determine whether this barn-red complex a motel-like inn, or maybe an inn-like motel. Whatever. Country is the theme, and all rooms have a/c, TV, Wi-Fi, fridge, microwave, and phone; some have a whirlpool, VCR, or balcony. The outdoor pool has a nice mountain view, and the landscaped grounds even have a fountain.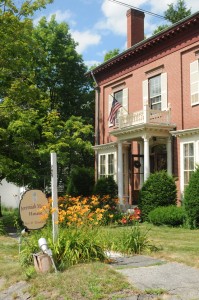 Jeremiah Mason Bed & Breakfast, Limerick
Here's a budget find. The handsome, brick, Greek Revival-style home, built by a wealthy banker in 1859, retains the elegance of a bygone era. Spacious, antiques-accented rooms have chandeliers, marble fireplaces, and floor-to-ceiling windows. Rates include a full breakfast; less expensive rooms have half baths.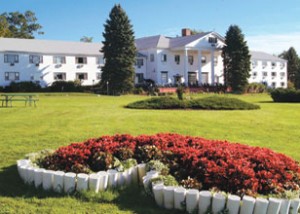 Poland Spring Resort, Poland Spring
For dirt-cheap digs with few services, check in here. Rooms are split between the Maine Inn, Presidential Inn, Lodge, and cottages. Packages including  buffet-style meals provide the biggest bang for the bunk. Facilities include an on-site pool, 18-hole Donald Ross championship golf course, driving range, and frequent entertainment. Not for everyone, but a reliable, cheap sleep for non-fussbudgets.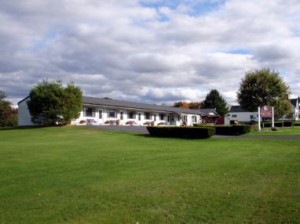 Sleepy Time Motel, Auburn
Charmingly retro and spotless, this six-room motel offers a lot of bang for the buck. Perks in the pine-paneled rooms include air-conditioning, microwave, refrigerator, recliners, Wi-Fi, and dining area.  The five-acre property is laced with three miles of trails for hiking and snowshoeing. Owners Lynn and Mark Klinger are hands-on and helpful.