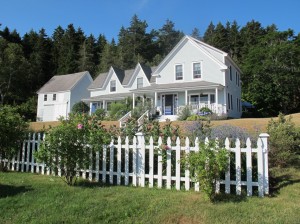 Sitting in a rocker on the front porch of Elsa's Inn and gazing out at the lobster boats bobbing in Prospect Harbor, it's hard not to believe all is right with the world…or at least on the Schoodic Peninsula, home to the only mainland section of Maine's Acadia National Park.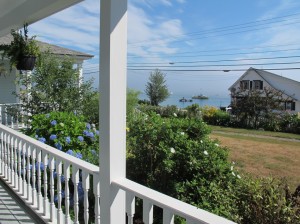 Stay north on Route 1 in Ellsworth, instead of following Route 3 out to Mount Desert Island, and within a couple of miles the fast food joints, strip malls, and big box stores disappear, as does most of the traffic. Tucked along Route 1 and the byways between Hancock and Milbridge are a smattering of antiques-and-what-not shops, artisan studios, and country stores, as well as wineries and smoked seafood shops, organic farms and honor-bar farmstands.
Add pink-granite shores trimmed with spruce trees that give way to gray granite-topped peaks, views over Frenchman Bay to the mountains that define Mount Desert Island; an inland forested reserve speckled with lakes for paddling and mountains for hiking; coastal preserves protecting heaths and forested peaks laced with tails; and a National Wildlife Refuge. Get the picture? This region is an off-the-beaten track slice of heaven for anyone who prizes outdoor oriented pleasures and poking around rural byways.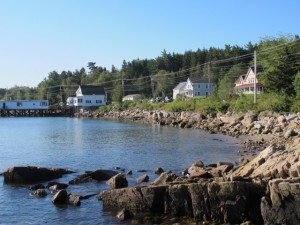 And Elsa's is the perfect spot to call it a day. When Megan Moshier and her husband, Glenn, returned to Maine to raise their family, they worked with her parents, Jeffrey and Cynthia Alley, to renovate the home of Jeff's mother, Elsa, into a warm and welcoming inn (Megan's family roots here go back more than 10 generations!).
Jeff's a third-generation lobsterman whose boat is one of those bobbing out front (a road separates the inn from the waterfront). With advance notice and a minimum of six guests, he'll will bring over some fresh lobster, and Megan will prepare a complete lobster dinner–corn on the cob, coleslaw, homemade rolls, and a seasonal dessert, all for about $25 pp, depending on market rates.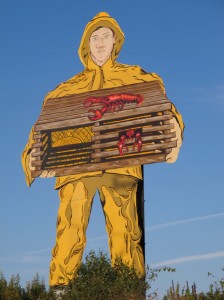 Prospect Harbor is one of those sleepy little Maine villages sprinkled with sturdy New England-style clapboard homes, often with a lobster boat or traps in the yard. As I sit rocking on Elsa's porch, my views extend over the harbor and wharves to a lighthouse on the point, and near it a modern structure that's the remains of a Naval Intelligence facility that operated here for decades.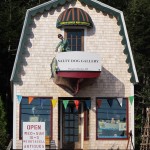 Up the road is a lobster processing plant. For generations, a giant sardine man stood guard over the town's sardine plant. The lobster processor replaced that earlier this year, and  the sardine man morphed into a lobsterman, his sardine tin painted over as a lobster trap. Next door is the Salty Dog Gallery and Hurdy Gurdy Man Antiques, a blend of funky folk art on the first floor (don't miss the Hawaiian hula dancer) with owner Dean Kotula's fine documentary-style, black-and-white photography upstairs.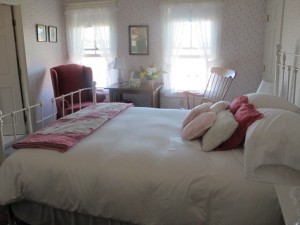 Inside the inn, the six guestrooms, each named after a woman in the family, blend modern amenities with old fashioned charm: The house is fully sprinkled, each room now has its own bath (one with whirlpool tub), there's Wifi and TV, and nice linens, towels, and even robes. But the decor recalls a gentler era, with floral wall papers, braided rugs, comfy antiques, and cozy country pieces. Extra touches include Maine Needhams (from Ellsworth), a delicious welcome gift; fresh flowers; and  locally made Prospect Harbor Soap Company lavender soap. Every room has a water view, and one first-floor, ramp-accessible room has a walk-in shower with bench.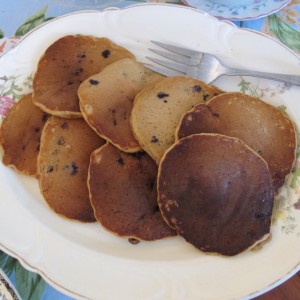 Both Megan and her mother love to cook, and that shows at breakfast, served buffet style, with seating either indoors or on the patio. One morning we began with pears in wine, followed by a blueberry streusal coffee cake, and then an egg & veggie casserole; the next day, the fruit course was followed by heavenly gingerbread-blueberry pancakes (recipe below); our final morning featured caramelized bananas, doughnut muffins (yes, muffins that taste like doughnuts, mmmm), and eggs baked in a coup with ham, cheese, and a touch of onion. One doesn't go hungry at Elsa's.
And given their depth of knowledge, one doesn't hit the road in the morning without plentiful ideas of what to do and where to go. The hardest part is tearing oneself away from that front porch.
Elsa's Blueberry Gingerbread Pancakes
• Combine:
3 cups flour
6 teaspoons baking power
1½ teaspoons salt
1½ tablespoons ground ginger
• In a separate bowl mix:
3 eggs
1½ cups milk (maybe more if batter seems too thick)
6 tablespoons melted butter
6 tablespoon molasses
• Add to dry ingredients and stir just until blended.
• Add two cups of fresh or frozen Maine wild blueberries.
• Measure ¼ cup of batter to make a perfectly sized pancake and serve with Maine maple syrup. Enjoy!