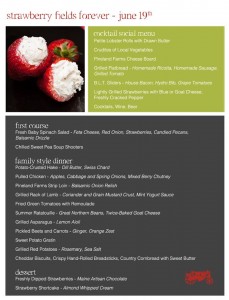 One look at the menu for the opening event of the Graze at Pineland Farms dinner series, and I was hooked. The dinner series is designed to emphasize community heritage, the farm, and other local producers. Each event begins with a farm tour and includes live music, a cocktail social, and a four-course dinner with farmers and chefs and featuring food that originated within minutes of the tabled. Also included are wine parings. The meal is served in the gardens or under a tent. Dinners are catered by Black Tie Co. The $95 pp price tag also includes tax and gratuity.
Here's the 2013 schedule:
June 19: Strawberry Fields Forever
June 26: Mind Your Peas And Carrots
July 10:  One potato, Two Potato
July 26: Cool As A Cucumber
Aug. 7: Blueberries for Sal
Aug. 21: Wild And Crazy Mushrooms
Sept. 11: Indian Summer Maize At Graze
Sept. 25: Eat, Drink And Be Cranberry
Oct. 2: Back To Your Roots
Oct. 9 How Do You Like Them Apples?