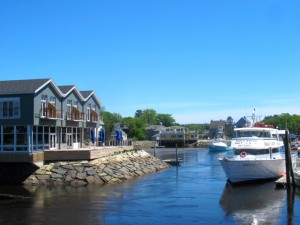 Oh dear, I've been on the road quite a bit lately and have fallen behind with posts, and there's much to share. I'll start in Kennebunkport, where the Kennebunkport Resort Collection debuted two new properties this summer. Thanks to an assignment to preview The Lodge on the Cove, which had yet to open, I spent two nights at the newly opened Boathouse Hotel.
Let's start with The Boathouse, which is a new boutique hotel on the riverfront site previously occupied by the Landing. Even without the primo location, just steps from  the heart of Dock Square, this is a nice addition to the intown lodging. As with other KRC properties, this one aims for an upscale audience that won't wince at the $279-649 per night price tag.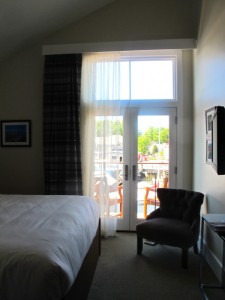 Despite having only 12 rooms, there are five different room types. Mine, classified as a Harbor room, was distinguished by a riverfront balcony set with a table and two chairs. I easily could have spent the better part of the day sitting here and watching the boat traffic in the river and the pedestrians flowing across the bridge.
Although smallish, the room was adequate and the bright, nautically inspired decor paired with the soaring ceiling made it feel more spacious than it was. Banyan rooms are more spacious and have seating areas, Landing rooms face the street, and there are also two different suites.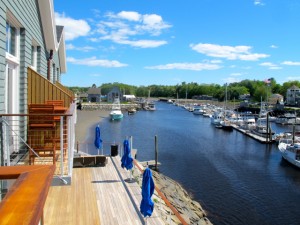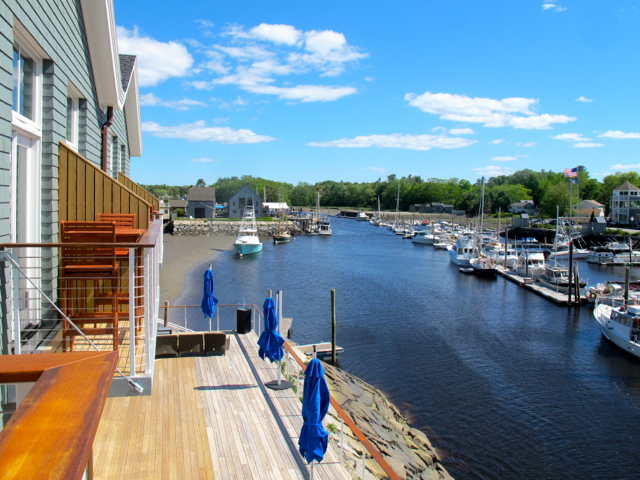 All rooms have the expected amenities: free Wi-fi, Keurigs (not a fan, they brew awful tea), air-conditioning, flat-screen TV, iPod dock, Frette linens, bathrobes, pillowtop mattresses. What it lacked was any bureau into which to unpack clothing. Nor did it have a luggage rack, I had to request one, which showed up within minutes. But these are minor quibbles.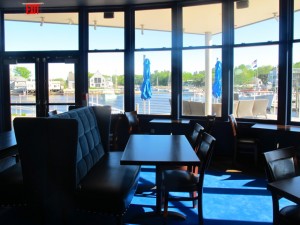 A continental breakfast buffet (baked goods, fresh fruit, yogurt, smoked salmon, juices, granola, etc.) with one hot entry (a vegetable quiche both  mornings I was there) is set up in the downstairs bar. An attendant serves coffee and tea, but guests are free to take the food wherever they please, outside on the expansive wrap-around deck, up to the rooftop deck, in the bar, or even back to their rooms.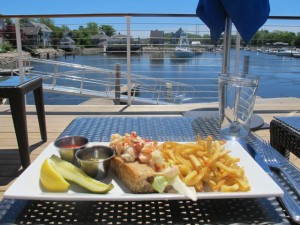 The Boathouse is also home to David's KPT, the newest restaurant in Portland chef/restaurateur David Turin's expanding portfolio. Like David's in Portland, this one also has David's Opus, a priced-fix, chef's showcase restaurant within it. Unlike David's in Portland, this one has walls of glass overlooking down the Kennunkport River and an outdoor deck with seating. Nice! While I didn't have the opportunity to have dinner here, I did enjoy lunch on the deck, something I can highly recommend.
FYI: Parking is provided for guests and in order to keep others from snagging these prime spots, each is marked by a cone with marked with a personalized sign. Although it was a bit of a pain to have to move the cone each time I arrived and departed from my space, it was worth it.
The Lodge on the Cove is the new name for a completely renovated and updated motor lodge (rates from $309). I toured this property while it was still under construction, so I can't be too specific, but I think I got a pretty good feel for it.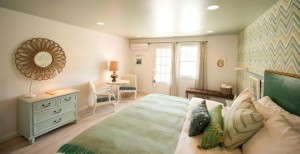 Families are welcome at the property, which has good-sized rooms, some connecting, spread out in three buildings edging a tidal cove (think: high tide and mud tide) about one mile from Dock Square. Designers have emphasized local artists and artisans to create what management calls a retro-chic look, from the furnishings to the artwork on the walls; I especially liked the coiled rope tables and the handcrafted headboards. All rooms are air-conditioned and have small refrigerators, microwaves, free Wi-fi, flat-screen TVs, and a sink vanity separate from the bathroom. Curtains allow guests to privatize their section of the long shared front porch.
The octagonal main lodge houses a lounge on the main floor and, downstairs, a tiki bar-style restaurant that opens to the outdoor heated pool. Guests have use of canoes and stand-up paddle boards. A breakfast bag is delivered to the door in the morning.
Special activities take place weekly: On Sundays, there's an ice cream social for kids with a social hour for the parents; Wednesday and Saturday evenings offer s'mores by the bonfire; and Friday afternoons feature acoustic reggae music during a poolside happy hour; daily activities might include bike rides or kayak tours