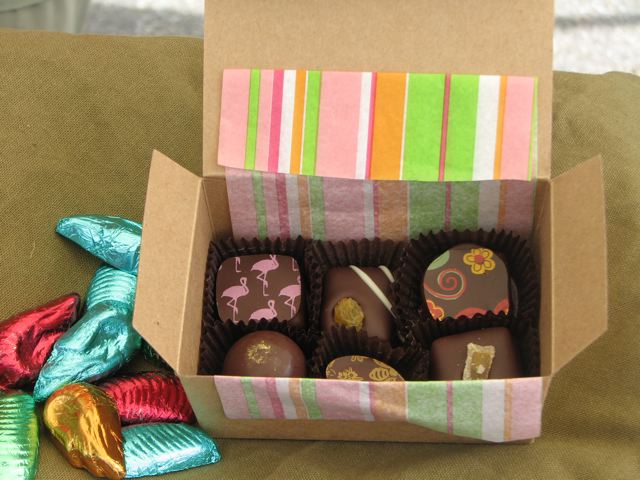 While I'm on the topic of great finds in remote places (see Grand Lake Stream, below), let me introduce you to Kate and Steve Shaffer's Black Dinah Chocolatiers. You can find these luscious truffles at the Stonington Farmers Market, held at the Community Center on Friday mornings (hint: this is a fabulous farmers market and one of the busiest in the state, so it's wise to be there when it opens at 10 a.m.).
Better yet, go to Isle au Haut to visit the Black Dinah Cafe in person. Take the mailboat from Stonington, get off "downtown" (as opposed to the park, if you're on that boat), then walk just shy of a mile to the shop/cafe. Besides the chocolates, there are muffins and other pastries for breakfast and two lunch choices:  biscuits with cheddar cheese, tomatoes, red onions and herbs or a schmmolie, a soft sandwich style bread stuffed with feta, artichokes, roasted red peppers and kalamata olives. Kate makes everything from scratch, using local and mostly organic ingredients. If by some weird chance you've schlepped your laptop over to the island, there's even free Wifi here.
But about those hand-crafted truffles. They come in a lucky 13 varities, in milk chocolate, dark chocolate and caramels. Kate's degree in English lit shows in the dark chocolate truffle "Gonne, Maude," named for Yeats' unrequited love.
Given that you're on Isle au Haut, home to a remote section of Acadia National Park, go ahead, chow down. Then hike. If you time your boat trips, you can arrive intown, then walk or hike your way down to Duck Harbor boat ramp for the late afternoon boat. But don't miss it.