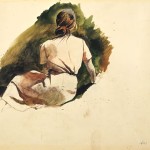 Ink this exhibit on your Maine calendar of events. Andrew Wyeth, Christina's World and the Olson House will open at the Farnsworth Museum's Wyeth Center on June 11 and will remain on exhibit through Oct. 30, 2011. The exhibition marks the 20th anniversary of the Rockland museum's acquisition of the landmark homestead, captured for posterity by Wyeth, as well as this year's expected naming of the Cushing property as a National Historic Landmark (see PDF of Executive Summary to National Park Service)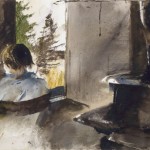 The exhibition comprises approximately 50 watercolors and drawings depicting Alvaro and Christina Olson and the  house in which they lived. Although Christina's World will not be on view (it hangs at the Museum of Modern Art), a dozen preparatory drawings and drafts of it will be. Many of the works included have been drawn from the collection of the Marunuma Art Park, in Asaka, Japan, and have been rarely exhibited in the states. The exhibition, organized by Farnsworth Chief Curator Michael K. Komanecky, will be accompanied by an illustrated catalogue published by the Farnsworth Art Museum.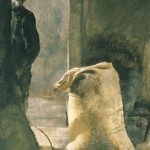 If you've never visited the Olson House, which is not on the museum's main campus, it's well worth the drive down the Cushing peninsula. The clapboards outside remain unpainted, the interior walls bear only a few Wyeth prints, each hung close to the settings they depict. It's equally dreamy and forlorn, inspired and yet forgotten. It's not a place quickly forgotten. It tugs at my heartstrings whenever I think of it. Admission can be on its own or as part of the other Farnsworth Museum sites.