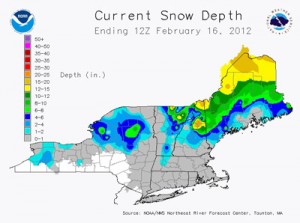 Maine has some of the best snow conditions in New England, and that's good news for skiers, snowboarders, snowmobilers, and snowshoers. I spent two recent days skiing at Sugarloaf, Maine, and I'm here to tell you that the  conditions, top to bottom, are excellent. There's enough natural to color the world white, and the snowmakers and groomers have worked miracles (kudos, guys!).
You're probably expecting me to add qualifiers to that, given the paucity of natural snow this season. But honest, the snow conditions are tops on the trails. I did see a few people venture off piste into the Brackett Basin glades, but unless you're skiing on old equipment and are willing to take a few dings, I'd stick with the groomers.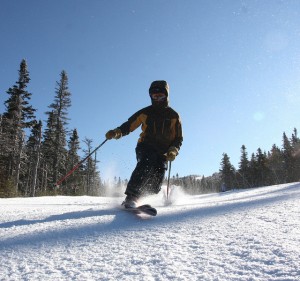 I skied trails from the west side over to the east side and rode the Super Quad, King Pine, Skyline (replaced Spillway), and Timberline lifts. There's plenty of terrain off every one, from White Nitro off the summit to the gentler trails served by Wiffletree. Tricksters take note: Sugarloaf opened its terrain park this weekend with new elements, including what spokesperson Ethan Austin described as a massive quarter-pipe.
The new Skyline lift is a wonder, a fast-moving, fixed-grip quad that moves as many people as a high-speed. Be prepared for the loading area: The first time, it can be a bit disconcerting as you're released from a gate onto a moving carpet. Hint: Look over your shoulder for the chair; don't look ahead to where the carpet meets the snow. It's still too early to say whether this chair will change the usual patterns of how people ski and ride the mountain.
Also new this season for iPhone and Android phones is the SugarloafReplay app, which calculates vertical, mileage, speed, number of runs, calories, and even air time, so you can relive your day with the push of a button.
Now I skied Sugarloaf, but I spoke with friends who skied Sunday River and Saddleback in the last couple of days, and those areas, too, have great skiing and snowboarding. Ma Nature may be stingy this year with the natural stuff, but Maine's ski and snowboard areas have powerful snowmaking systems that are proving their worth in this dry season, and truth is, according to the National Weather Service, Maine has been pretty lucky snow-wise. Go.