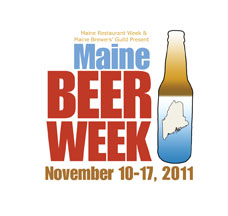 Celebrate Maine craft brewing at Maine Beer Week, Nov. 10-17. The week-long brew-ha-ha features beer dinners, pairings, tastings, tours, meet-the-brewer nights, and more, all highlighting local brews. Participants include 27 Maine breweries; nearly 50 Maine restaurants, taverns, and brewpubs; and a handful of lodging sponsors. Many restaurants will be offering specially priced menus.
Maine Beer Week Special Events
• Nightly Meet & Greet with brewers and brewery owners at Novare Res Bier Cafe, Portland:
Thursday, Nov. 10:  Oxbow Brewing
Friday, Nov. 11: Maine Beer Company
Saturday Nov. 12: Rising Tide
Sunday, Nov. 13: Bull Jagger Brewing
Monday, Nov. 14: Urban Farm Fermentory
Tuesday, Nov. 15: Sebago Brewing
Wednesday, Nov. 16: Marshal Wharf
Thursday, Nov. 17: Maine Mead Works
Thursday, Nov. 10:
• Five Brewers + Five Courses, David's Restaurant, Portland, $65: Chef David Turin's menu will be paired with beers from Oxbow, Rising Tide, Marshall Wharf, Maine Beer Co., and Baxter Brewing Company.
• Beer dinner at Inn by the Sea, Cape Elizabeth, $42 pp, including beer flight.
Friday, Nov. 11
• Oxbow Night at Lion's Pride Pub, Brunswick.
• Rising Tide Beer Dinner at Farmers Table, Portland, $65 pp includes tax and tip: Four courses, each paired with a Rising Tide beer
Saturday, Nov. 12
• Goods from the Woods, Oxbow Brewing Co., Newcastle:  Tours, samples, growler fills, and Harvest Moon Pizza .
Sunday, Nov. 14
• Meet your local brewer five-course dinner with Oxbow Brewing Co. pairings at Newcastle Publick House, Newcastle, $45 pp or $80 per couple: Happy Hour followed by dinner.
Monday, Nov. 15
• Dian Fossey Gorilla Fundraiser at Taco Escobarr, Portland: Maine Beer Co. fundraiser, with half of draft sales donated to Dian Fossey Gorilla Fund; $2 tacos, too.
Tuesday, Nov. 16

• Beer Tasting Dinner in the new upstairs bar at Back Street Bistro, Brunswick
• Rising Tide Brewers Night at Nocturnem Draft House, Bangor: pint glass giveaway.
Wednesday, Nov. 17
• Total Tap Takeover at Great Lost Bear, Portland: 21 Maine breweries are taking over to support Preble Street.
• Beer Garden Dinner at Pairings at Penobscot Bay Brewery, Winterport, $35 pp: Chef Doug Winslow presents five courses paired with five Penobscot Bay Brewery Ales.