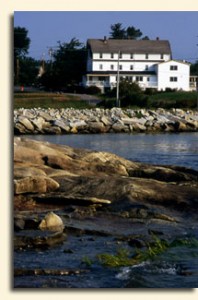 It's always pleasant to return to a place and find that it's far better than previously experienced, and that was the case with the  Craignair Inn Restaurant. This tucked-away oceanfront dining room, in an old timey inn, surprised us with excellent fare at a more than fair price.
Earlier this year, the Craignair, which tips Spruce Head's Clark Island peninsula , just south of Rockland and Thomaston, came under new ownership, and Joanne and Michael O'Shea haven't lost the time-warp enchantment of the property, originally built in 1928 as a boarding house for granite workers in the nearby quarry. It remains a classic Maine country inn, but one with a fabulous location.
The dining room is unfussy and without pretension: wood floor, rough wood ceiling, no music, laminated menus. Local artwork (and there's a heckuva a lot of talent on the St. George peninsula) adorns the walls, but the focus here is the view. Big windows frame the causeway to Clark Island and open ocean beyond.
The wine list is tiny and, well, if you're into wine, you'll be disappointed with only about a dozen choices (five whites, six reds), but prices are on the low side, with glasses running about $6 and bottles $20-$32.
The menu (entrees $16-23)  is heavy on seafood, with a few surprises. The new owners have continued with many of the inn's specialties, such as lobster stew, smoked haddock chowder, and bouillabaisse. We began by splitting two orders of oysters Rockefeller (3 per $9 order), and with the first taste, the chef began exceeding our expectations. When we asked whether they were Pemaquid oysters, our waitress had to ask the chef, but yes, indeed, they were. Score one for local!
Now we kept overhearing something about a watermelon soup, which our server hadn't mentioned, so we asked. Whoops! She forgot about the amuse bouche. Just a taster, but it was lovely.
Our entrees arrived quickly. I had the baked stuffed haddock ($21), a filet filled with crabmeat and topped with lemon butter sauce and  paired with the risotto and vegies. The fish was tender and moist, the stuffing was rich with crabmeat, the risotto was creamy, and the mixed vegies were just that—a bright mix of fresh beans, asparagus, onions, carrots.
Two in our party had the Craignair crab cakes ($16), which came topped with a Dijon remoulade . These were dense, heavy with crabmeat, and delicious. They, too, were accompanied by risotto and vegies.
The big winner was the pan-seared duck breast ($22), which came smothered in a cranberry-orange reduction and over black japonica rice. I had one taste; heaven!
Servings were generous and none of us had room for dessert, which included a cookie of the day as well as a mini creme brulé and a root beer float; nice variety.
Overall, the experience far exceeded our expectations. We had an excellent dinner, enjoyed a grand view, and the pace was perfect. And four of dined—including the appetizers and a total of five glasses of wine between us—for $135; that's a steal.
I was wishing I'd booked a room for the night. It would have been nice to hang out afterward in the parlor, wake to that view in the morning, perhaps have morning tea on the front porch, and just enjoy being at an oceanfront inn. Maybe next time; the rates (which include breakfast, but not dinner) begin at $80 for a room with shared bath, $126 private bath, through Labor Day; spring and fall rates are less, and there's Fall Foliage Special, available midweek Sept. 19 through Nov. 18, that provides a free night with a three-night reservation.