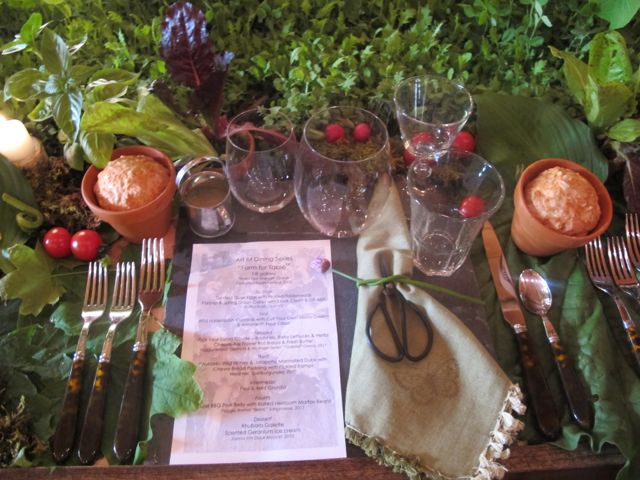 By now, the only trace of the 2013 Kennebunkport Festival remains in photographs and memories. The annual event celebrates food, art, wine, and beer with five days of cocktail parties, receptions, in-house dinners, art shows, after parties, a dine around, and gala events such as Pop the Kennebunks, Grand Tapas Party, Brews & Tunes, and The Grand Finale. At all, the wine flows, the tastings keep coming, and the music keeps playing.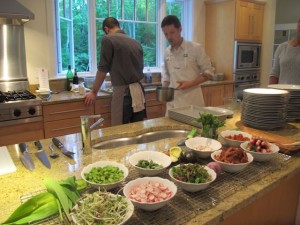 Here's my hint for next year's festival: Make plans and reserve early for Art of Dining events you want to attend. These dinners, prepared by some of Maine's best-known chefs, take place in private homes and each also highlights an artist, whose work is shown. Tickets sell quickly and many events sell out weeks, if not months, prior to the actual shindig.
A plus  for out-of-towners attending the Art of Dining dinners: The opportunity to get insider tips from the locals. A plus for everyone: Proceeds from these dinners benefit Share Our Strength, which works to end childhood hunger in Maine and throughout the country.
I wasn't able to attend the big ticket events, but I did enjoy a few of the early cocktail parties and dinners.
• Cocktails at one Dock at the Kennebunkport Inn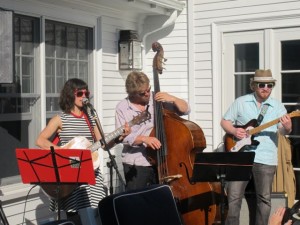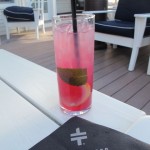 What better way to open a festival than with an outdoor cocktail party on a deck overlooking the river. Live music by Emilia Dahlin provided the perfect backdrop, and the weather cooperated, making for an especially enjoyable evening. And yes, the cocktail of the night was mighty tasty, almost dangerously so.
• Art of Dining, Art Collector Maine Dinner with Chef Josh Hixon of 40 Paper and artist Janis Sanders, Leonardi residence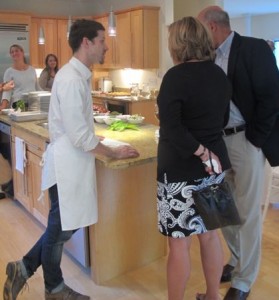 The dinner paired Chef Josh Hixson of Camden's 40 Paper (and Rockland's Three Crow) with artist Janis Sanders.
During the pre-dinner cocktail hour, I had time to admire the Sanders' paintings, which were displayed both indoors and on the back deck. I especially enjoyed the view of Monhegan light, not the usual angle for paintings of this icon.
Tabitha Blake of Crush Distributors, a small and new player in Portland, made the wine pairings. These featured French and Austrian wines from small producers.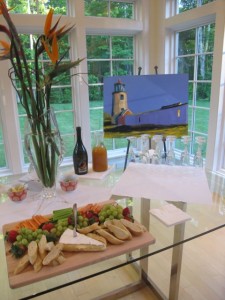 We began with a salad of local pea tendrils, roasted baby beets, local goat cheese, and pickled rhubarb, paired with NV Hillinger Secco Sparkling Rose from Burgenland, Austria.
Next up: Wild mushroom raviolini with corn shoots, tomato raisins, basil and vermouth beurre blanc, paired with a 2011 Pfister Pinot Gris, from Alsace, France.
The third course comprised wild periwinkles, baby turnips, and Tasso ham on white polenta, paired with a 2012 Anton Bauer Gruner Veltliner, from Wagram, Austria.
Fourth course was local hake, wrapped in prosciutto on avocado, quinoa, and fava beans with arugula gremolata and buttermilk creme, paired with a 2011 Domaine Bernard Rouge, from Burgandy, France.
And the final kiss: ginger and rhubarb crostata with fresh mint creme.
Excellent meal, easy-going and friendly crowd, great art. What more could one want? One of the nice things about these events is that although many of the attendees know each other, the group is small enough to easily mix in and mingle.
• Cocktails at the Cape Arundel Inn
I was so busy enjoying the live music by Sara Hallie Richardson and the views, I neglected to take pics. You can't beat this inn's location, and despite chilly temperatures, I spent most of my time on the porch admiring the open Atlantic views. Chef Pierre Gignac (previously with 98 Provence, in Ogunquit) created excellent hors d'oeuvres, and even prepared a special plate for a gluten-sensitive guest.
• The Art of Dining dinner with Chef Leslie Oster of Aurora Provisions and artist Brad Maushart, Maushart residence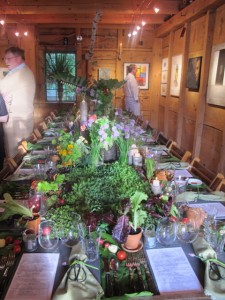 This dinner, in photographer Brad Maushart's f-8 barn gallery, turned the table into a farm. Last year, Chef Leslie Oster of Portland's Aurora Provisions had wowed guests with a raw dinner at the gallery.
This year, Aurora teamed with Stacy Brenner and John Bliss of Broadturn Farm, in Scarborough, on one of the most creative and fun dinners I've had in a state that specializes in farm-to-table dining.
The barn setting was perfect, and Maushart's photographs provided a nice backdrop.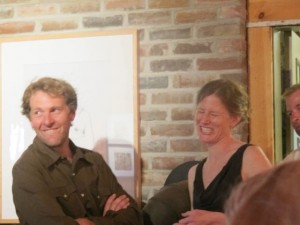 As you can see from my pics, the table was inlaid with flats of micro greens as well as lettuces and basil plants and seasoned with fresh tomatoes, fiddleheads, radishes, oyster mushrooms, chives, and nasturtiums. Table settings included mini scissors as well as little watering cans filled with dressing and flower pots with bread. We snipped at will, using the greens to dress the various courses as well as to prepare our own salads. It was fun, it was delicious, it was fresh.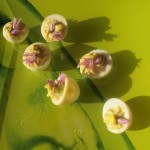 Hors d'oeuvres served while we sipped Biutiful Rosé Cava NV and mingled: deviled quail eggs with pickled fiddleheads; parsnip & spring onion cakes with duck confit and dill aioli
Then the fun began:
First course: wild horseradish custards with cut-your-own micro greens and Amaranth flour crisps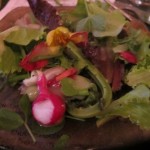 Second course: pick your salad, with all the goodies above and accompanied by cheese-ale flower pot bread and fresh butter, paire dwith Poggio Anima Demons & An Angel Series-Gabriel, Greco 2011
Third course: rhubarb, wild honey and jalapeno marinated duck with chevre bread pudding with pickled ramps, paired with Messmer, Spatburgunder, 2010
Intermezzo: pea & mint granita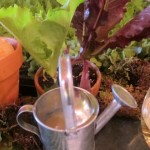 Fourth course: Moxie BBQ pork belly with baked heirloom marfax beans, paired with Poggio Anima Belial, Sangiovese, 2011
Dessert: rhubarb galette with scented geranium ice cream paired with Samos Vin Doux Muscat, 2010
Now I'm wondering just what Chef Oster will come up with to top this next year. If you want a seat at the table, plan ahead. I know I will.