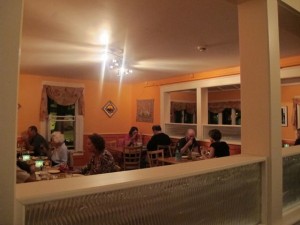 If you think vegan dining isn't delicious, you've never dined at Eden Restaurant, in Bar Harbor, Maine. Eden serves vegan fare that could turn even the most committed cowboy carnivore into a veggie-eating happy hipster.
After a couple of year's closure, Eden reopened in a spacious new digs on Bar Harbor's Main Street, in the building that previously housed a hostel. Now rooms both upstairs and down have been turned into dining areas, and a small bar, and when the weather cooperates, there's deck seating too.
Almost everything on Eden's menu is organic and whenever possible, the ingredients are locally sourced from farms and gardens on Mount Desert Island. The menu changes seasonally, and when we visited, the new fall menu had just debuted. It's strictly vegan, no animal products are used. But don't let that dissuade you. Eden delivers a creative, colorful, flavor-rich, and visually appealing experience that won't leave you pining for meat or animal products.
It begins with the flatbread, served with a green olive tapenade, a combo that's addictive. Next came a Persian tomato tartlet appetizer ($9.50) that set the tone for the evening with its creativity and depth of flavor. Tomatoes spiced with zatar (which usually includes sesame seeds, sumac, salt and herbs—often dried thyme) and a savory custard were wrapped in a phyllo crust, drizzled with rose-pomegranate syrup, and accented with orange-blossom-spiced candied pistachios. I could almost hear Iranian setar music in my head.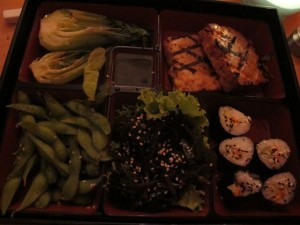 Eden's bento box is a symphony of well-orchestrated Asian flavors. The fall menu version comprises grilled marinated local tofu with a red miso and maple glaze; vegetarian maki roll; seared local baby bok choi; yuzu ponzo, a sweet-sour-salty sauce; gomasio-seasoned edamame; and a house-made local alaria seaweed and wood ear mushroom salad ($20). The portions of each were generous, the presentation lovely, and the aroma was enticing. I began with the tofu, and truthfully, other than texture, I could have been convinced that the tofu was meat. All the pieces of this bento box puzzle complemented each other, with the sauce adding just the right zip. 
The tempeh gado gado comprised tamarind-roasted local tempeh served on a salad of shredded cabbage, leaf lettuce, fresh vegetables, and spicy pickled bush beans, all dressed with a warm Indonesian coconut peanut dressing and accented with fried onions ($19.99). While the bento box allowed me to mix and match and create flavors, this dish had me guessing as I tried to ascertain the various flavorings contributing to the whole. Loved it.
Eden Restaurant is located on the southern end Main Street (way too conveniently close to MDI Ice Cream's original shop). A children's menu is available. FYI: If you are vegan, you might be interested in the directory of resources on the restaurant's web site.