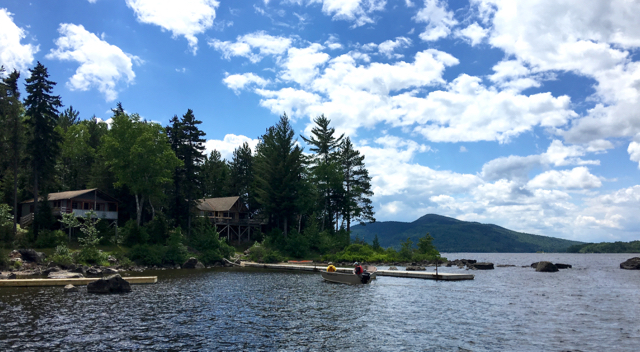 With August comes the realization that summer isn't forever, and it's time to get cracking on getting away. But where, you ask? I have a few suggestions. Let's start with Attean Lake Lodge.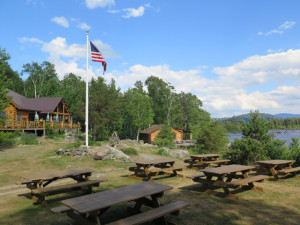 Attean Lake Lodge delivers an island escape with contemporary conveniences and easy-on-the-eyes wilderness scenery.
Sited on a private island in mountain-cradled Attean Pond, nudged up toward the Canadian border west of Jackman, and founded in 1904, this main lodge and 14 one- to three-bedroom cabins is under the third-generation ownership of Brad Holden and his wife, Andrea, assisted by their son, Barrett, and his fiancé, Josie, and Karl, who greets guests at the mainland boat landing (Be sure to ask him about the Maine Guide medal around his neck and about the paint job on his truck).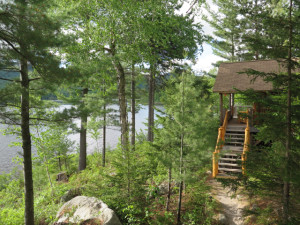 "We're not a resort; we're not a sporting camp," Brad says. So, what is Attean? It's an all-inclusive getaway on forested Birch Island, where you can enjoy sporting amenities—boating (fee for motor boats), fishing, hiking, wildlife watching, sand-castle building; play games in the main lodge; or simply sit on your porch gazing over the lake from your private cabin on the shoreline.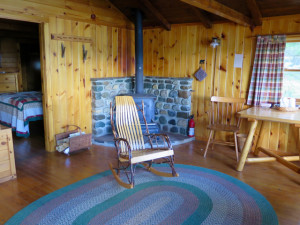 Each pine-paneled cabin (all are either rebuilt or refurbished) is cozy and comfy and has a living room with woodstove, a modern bathroom, and a porch facing the lake (sunsets!). All are illuminated with the soft glow of gas lanterns. The main lodge has an expansive great room with cathedral ceiling and stone hearth, plentiful seating, a small library stocked with books and games, and a dining room that overflows onto a deck.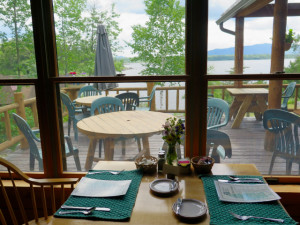 Choice-of-menu hearty breakfasts and multi-course dinners are served in the main lodge or deck. Choice-of-menu lunches, including a drink Thermos, are packed to go. One certainly doesn't go hungry here.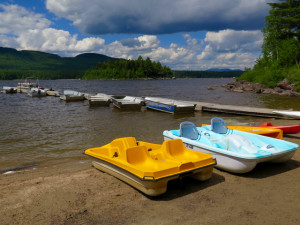 Nor does one lack things to do. Amenities include a sand beach; canoes, kayaks, paddleboats and rental motorboats for exploring—take your lunch, and find a remote beach for a picnic; pontoon boats for tours; and a smattering of trails edging the shorefront and cutting across the island—with one seat perched just so on a huge glacial erratic at Lookout Point.
The Holdens also maintain 20 miles of hiking trails, some access remote ponds, where canoes are stashed, others ascend peaks and deliver panoramic views.
You can cast a line for landlocked salmon or brookies.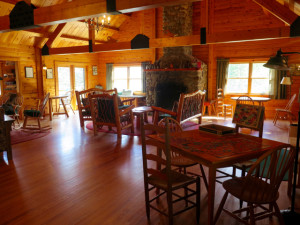 Or simply settle onto the porch with a good book and while away the afternoon. If you must, there's Wifi in the main lodge, but really, just unplug and turn it all off to really experience this little slice of heaven.
Good to know: Kota, the resident malamute, may accept the presence of other well behaved dogs in June and September.