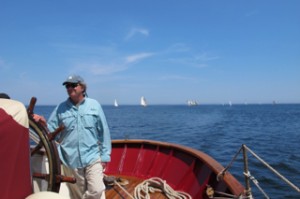 Yesterday I experienced the annual Parade of Sail by the Rockland Breakwater aboard the Angelique,  one of the traditional sailing vessels in the Maine Windjammer Association fleet.
I boarded in Camden, and then sailed to Rockland for a two-hour parade of the harbor with other members of the fleet and visiting boats. The Angelique is a beauty, built in 1980 and owned by Capt. Mike and Lynne McHenry. It can take up to 29 guests, who have plenty of room to spread out on the deck and below. There's even a piano in the deck house.
Deal Alert: The Angelique is offering a 10% discount on all three- and four-day cruises, but you must book by July 30; space available. Maine Windjammer vacations are an especially good choice for those on a budget as trip include the sail, bed, and all meals. That's especially true on the Angelique. Chef William Howe is graduate of Le Cordon Bleu.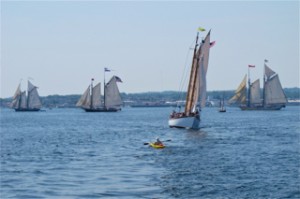 I convinced Chef to share his fish chowder recipe, get it here. Lunch also included a salad of fresh greens, and baker Sarah's awesome biscuits and jam-filled cookies.
Here's a sampling of the day.