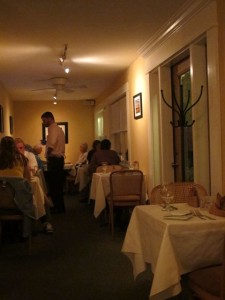 Recently, we dined with friends at Fathom, a new-in 2011 restaurant in downtown Bar Harbor, Maine. After one meal, we understood why other guests at the Ullikana, the inn where we're staying, had returned not once, but four times during their one-week stay.
Fathom is located just off Cottage Street in the space occupied previously by Maggie's. (How I miss her lobster crepes). There's seating both inside as well as in a sheltered-from-the-elements outside area.  The experience is one of the few approaching fine dining on the island. White clothes drape the tables, and waiters are professionals—efficient, service oriented, and knowledgeable.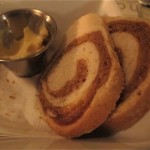 As we perused the menu—no specials, as the menu changes every few days to reflect what's fresh and local—our waiter brought a basket of housemade bread, a swirl of focaccia with anadama accented with salt and served with a side of molasses butter. One taste, and I was eager for more of what chef/co-owner Josh Heikkinen had up his crisp white sleeve.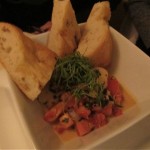 Our table ordered two appetizers: spicy drunken shrimp and crab cakes (each $12). The shrimp are one of the restaurant's signature appetizers, and it's easy to taste why. Gulf shrimp, perfectly cooked to that firm yet tender state, were swimming in spicy tequila lime sauce (we all agreed the sauce might be a tad too hot for those with tender palates, so be forewarned). The fresh Maine crab cakes were pan-fried and paired with a pickled garlic aioli and roast tomato coulis, along with a side of greens; heaven!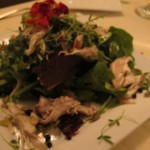 It is in the salads and entrees where Heikkinen really shows his forté for creatively using seasonal ingredients. The rabbit and pumpkin seed salad featured braised and pulled rabbit with pumpkin seeds, dried blueberries, and goat cheese, served over house greens and finished with an olive oil and cider vinegar dressing ($10). It's an imaginative dish that truly reflected September in Maine. That one disappeared quickly.
The grilled, marinated round of lamb was accented with a blackberry-infused, house-made demi glaze and served with two spears of broccoli rabe ($24). The lamb was tender, juicy, almost sweet, and simply lovely.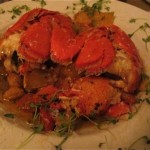 The star of the night was the house-made sweet potato gnocchi, which was pan-fried with the meat from a 1.25-pound Maine lobster (soft shell), tomatoes, and sliced butternut squash in a parsley brown butter sauce ($30). While the presentation on each dish was worth noting  for its use of the plate as palette, this one was truly spectacular, with the lobster shell adding color and contrast. This dish is a must for lobster lovers who crave a creative preparation that reflects the season.
Duck breast was seared and roasted in rhubarb and red wine, and served with pommes pailles, a.k.a. shoestring potatoes ($26).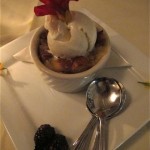 Now all this was wonderful, but the dessert cinched the deal. We ordered two, the chocolate pot de cream and the piece de resistance: maple anadama bread pudding topped with MDI Ice Cream vanilla bean. I said I would have one taste. Fat chance on that, I could stop from taking spoonful after spoonful. It was warm, with a toasty crisped edge. The whole simply melted in my mouth. Honestly, I would return again and again for this dessert alone.