My all-time favorite, must-go festival in Maine is the annual Grand Lake Stream Folk Arts Festival, held under tents on a grassy ballfield in a tiny town wedged between two lakes and straddling its namesake stream (prized by anglers)  way Down East. The artisan talent is huge, the prices reasonable, the music fabulous, the setting priceless. Bring the kids, bring the dog (leashed). Here's more.
Somehow, when no one was looking the Ossipee Valley Music Festival became the biggest bluegrass festival in New England. But here's the thing, it's not just bluegrass. There's Gypsy Jazz, Old Time Country, Honky Tonk, Irish, Cape Breton, and more. Festival organzizers say: This isn't your mothers bluegrass festival, it's more like your crazy uncle who rides a Harley's bluegrass festival. It takes place in Hiram, that's south of Fryeburg, west of Sebago, hard by New Hampshire's border. It kicks off Thursday  night and continues through Sunday.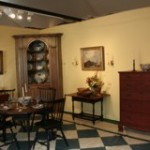 If you're a fan of Antiques Roadshow, you'll know the name Leigh Keno, one of the twins who are mainstays on the PBS show. Leigh is this year's honorary chair for Antiques in the Garden at the Coastal Maine Botanical Gardens. He'll be at the Gala Preview Thursday night ($75), which includes food and beverages as well as entry to the show and gardens throughout the weekend. Thirty top dealers from the Maine Antiques Dealers Association will be showing and selling in the garden setting. Attendance for the show and sale is a far more budget-friendly $12 show alone, $20 with garden entry.