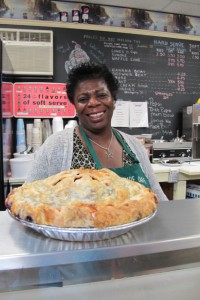 The majority of visitors to Mount Desert Island say on the west side, congregating in Bar Harbor and the sights along the Park Loop road. If you want to escape, mosey over to the west side, a.k.a. the Quiet Side. Southwest Harbor is the hub, but even when it's busy, it's far less so than Bar Harbor. Loop through Manset, through the Seawall section of the park, nip into Bass Harbor, Tremont, and Bernard, and you'll find be rewarded, especially if you're hungry (There's great hiking on this side). Here are a few places to nibble and sip.
Popovers!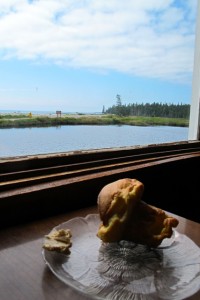 Breakfast at the Common Good Cafe, overlooking the Seawall section of the park, is a meal that not only tastes good, but one you can feel good about. Every morning, the cafe offers a self-serve, by-donation, all-you-can-eat buffet of hot popovers, slow-simmered steel-cut oatmeal, teak, coffee, and accompaniments, including maple syrup and house-made plain and flavored (maple walnut, cinnamon) butters and jam. I've been twice this season and will try to return at least a  few more times – it's that good. It may not have the history of the Jordan Pond House, but the popovers are truly delicious, and the butters, well, I'm still licking my lips at the memory.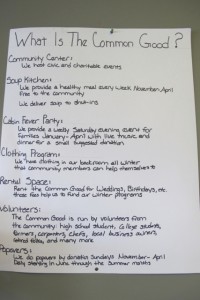 The volunteer-run program is a fund-raiser by The Common Good Soup Kitchen Community, which distributes free soup to shut-ins, offers a winter community meal,and stocks a winter community clothing program, among other things. Be as generous as you can in your donation; remember just one popover with tea is about $10 at the Jordan Pond House, here you can eat as many as you like. That said, no one monitors it, and if you're on a tight budget, just give what you can. Every penny is appreciated. You might also consider picking up a package of the popover mix.
Lobster!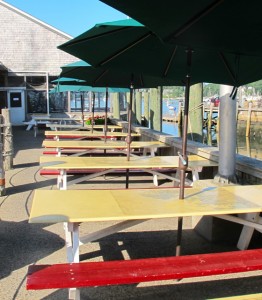 Beal's Lobster Pier is getting some fancy! Not only has it renovated its dining area, it also hired Chef John Wight (previously with the Jordan Pond House) to upgrade and expand its menu. Of course, the lobsters are all from boats that unload right at the pier but Wight is emphasizing fresh and local, including Maine-raised beef and locally grown veggies. Wight promises plenty of gluten-free options.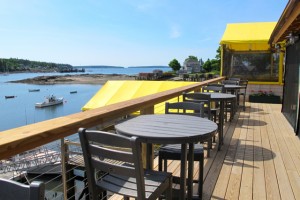 If Beal's is getting fancy, wait until you see Thurston's Lobster Pound. I've long favored Thurston's thanks to its dreamy views over Bass Harbor. Always a few steps above bare-bones shack, thanks to its covered and screened seating area, now it's gone downright upscale with the addition of an adjacent, deck-connected indoor/outdoor bar/lounge complete with marble bar and massive hearth. Love it!
Facing off with Thurston's from the Bass Harbor side of the harbor is  Rich's Take-Out, which has a new, elevated deck–just perfect for watching the lobster boats to and fro while devouring one of its much lauded lobster rolls or a whole lobster.
Even more low key is Sawyer's Lobster Pound a lobsterman-owned, order-at-the-window joint that gets raves for its lobster rolls and lobster. No view, only a few picnic tables, but you can always take it to go and head for Acadia's Seawall Picnic Area.
Sweets!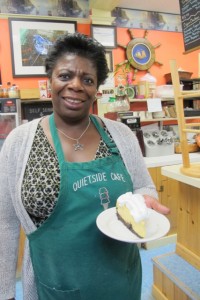 My between meals research is fueled by sweets. Truth-to-tell, I don't know how I went so many years without knowing about these two sweet finds. While I've long known about the Quietside Cafe, I didn't know about Frances' to-die-for key lime and mile-high blueberry pies. These alone are worth a trip to this side of the island.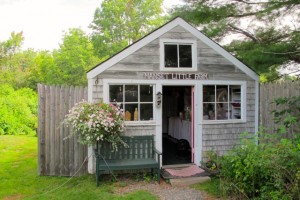 Ditto for Maureen McDonald's scratch-made cookies at the Manset Little Farm, on Route 102A. I was reluctant to pay $4 for one cookie, but in the name of research, did so. Got back on the road, took one bit of my Amazing Molasses Cookie, and was not only amazed by the perfect marriage of flavor and texture, but also left wishing I'd purchased the chocolate chip, peanut butter chocolate chip, oatmeal raisin, lemon bar, raspberry bar, and…. Worth every penny.