Delve into Maine's history and heritage by attending one of these free upcoming talks this week.
SERC Schoodic Series Lecture, Wed. May 30
Dr. James Gramann, from Texas A&M University, will present Kindred Spirits: Landscape Painting and America's Natural Parks, in the Moore Auditorium on the SERC Campus in the Schoodic Section of Acadia National Park, at 7 p.m. on Wed. May 30.
This season, the SERC Institute and Acadia National Park are presenting three series of free, public lectures. The SERC Science Series will offer scientific information, data, and research findings with an emphasis on research in the park. The Schoodic Series is more general in scope, highlighting natural science, education, history, and the arts. The Special Speaker Series will vary. All will be held in Moore Auditorium on the SERC Campus  While lectures are free, donations are always appreciated.
Free Malaga Island talk at the Maine State Museum, Augusta, May 30
Maine State Museum Curator Kate McBrien will discuss the new exhibition Malaga Island, Fragmented Lives" at 6:30 p.m. on Wed., May 30, at the museum.
"The Malaga Island story is important to an understanding of racism, economics, social reform, and the role of government in the early 1900s," McBrien says. "For nearly 100 years, Malaga Island, located at the mouth of the New Meadows River in Phippsburg, was scarcely spoken of, except negatively. When archaeologists from the University of Southern Maine began excavations on Malaga, the long-missing fragments of peoples' lives there began to re-surface. Like the exhibition, my talk will look at those fragments, along with historical photographs and documents, to better understand the community and the forces that shaped its formation and demise."
McBrien will include details on the individuals who lived on the island as well as what happened to them after the eviction.
Slide Lecture Highlighting Old Photos of the St. George Peninsula, Thurs., May 31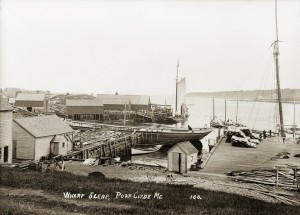 Take a trip down memory lane with Kevin Johnson, photo archivist for the Penobscot Marine Museum, when he presents a slide lecture at the St. George Grange Hall on May 31, at 7:30 p.m. Greetings from St. George: Selections from the Eastern Illustrating and Publishing Co. Collection will show images of St. George, Tenants Harbor, Martinsville, and Long Cove dating back up to 100 years. The program is sponsored by the St. George Historical Society. Admission is by donation. A pot-luck supper will precede the talk.