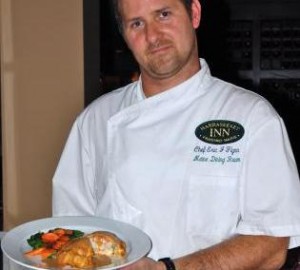 In a state where nearly every restaurant features farm-to-table fare, Freeport's Harraseeket Inn is elevating the message. Chip Gray, innkeeper of Freeport's Harraseeket Inn, has teamed with the Maine Organic Farmers and Gardeners Association and Maine Farmland Trust, to recreate the inn's Maine Dining Room as Maine Harvest. The restaurant remains open as the changes evolve, with a grand opening expected in early summer.
"We've always served farm-to-table food and we've been working with farmers, fishermen, and foragers; this is just formalizing the relationship, highlighting it, and showing how it happens," Gray says. "We're trying to tell the story of the whole farm-to-table movement in Maine: how farms and farmers get hooked up, how Maine Farmland Trust is getting farmers on farms, how food is produced, MOFGA's role in teaching farmers in the making."
When entering the restaurant, guests will be able to peruse a menu on a market table laden with a representation of what's been delivered that day. Inside, "the story will be on the walls," Gray says. Artwork will include mission statements from MOFGA and Maine Farmland Trust, an aerial picture of a farm, another image depicting the inn's lobsterman yanking traps out of the water, MOFGA posters, and other pictures of farms and farmers.
Gray wants guests to understand that serving farm-to-table fare requires a cooperative effort. "It's not the just the farmer, it's not just us, it's not just picking up the phone and calling the vegetable guy. It's the community that produces this. It starts with saving the farm from development in the first place."
The inn's menu has always emphasized farm-fresh fare, and that will continue. "This isn't a gigantic change, more like a change of mood; it'll be much less formal," Gray says. "We've been cultivating these relationships for decades. It's the partnership of everyone working together that makes this work."
***
Note: As every February, the inn's dining room is featuring wild game this month, with pheasant, rabbit, elk, boar, and quail on the menu.