Foodie poohbahs lavish attention on Maine's hot chefs and farm-to-table restaurants, but few dish on the off-the-publicity-grid, non-chain, fastish-food, take-out and grab-and-go joints.
When I'm driving Route 1, Maine's coastal artery, focused on getting to my final destination, and hunger pangs strike, I favor chow options that are good, fast, and cheap. Over the years, I've developed a list of reliable quick eats, some of which even answer cravings for ethnic specialties.
Two caveats: First, although most aren't well publicized, the locals know them, so don't expect to be alone; and second, many are cash only.
Kittery
Local's call the stretch of Route 1 north of Kittery's Memorial Bridge the Miracle Food Mile or Gourmet Alley. Sandwiches are made to order at Beach Pea Baking, where you can eat indoors or on the patio. Sandwiches, soups, salads, and prepared foods are available at Terra Cotta Pasta Co., a butcher shop, earns kudos for awesome burgers and sand­wiches. Top it off with elegant, connoisseur-worthy chocolates from Byrne & Carlson.
Cape Neddick
Get your reggae on with jerk chicken, curried goat, and other island specialties at the Jamaican Jerk Center, a seasonal take­out with tables under a tent and on the lawn. Prefer hot dogs? Flo, namesake of Flo's Steamed Dogs is long gone, but her family continues to operate the stand, cranking out wieners topped with Flo's renowned relish.
Ogunquit
The biggest challenge with stopping at Bread and Roses, a small downtown bakery, is scoring a convenient parking place. If you do, expect scrumptious baked goods, tantalizing salads, and vegetarian lunch items.
Wells
Plentiful parking and a Route 1 location at the intersection with the Maine Turnpike/I-95 connection, makes Los Olas Tacqueria an easy stop for a fast Mex fix. The clean, efficient, order-at-the-counter operation offers plentiful choices, tacos (soft or hard corn, soft flour), salads, buritos, nachos, quesadillas, even a kiddie choice. Points for using all-natural, hormone free chicken, USDA organic pork, USDA prime cut steak, and a local chorizo.
Scarborough
It's easy to create a to-go gourmet picnic from cheese, specialty foods, and premade sandwiches at The Cheese Iron, but save room for a chocolate or maybe a sea salt caramel ice cream from Len Libby, home to Lenny the world's only life-size chocolate moose.
Yarmouth
Snag a picnic table overlooking a tidal estuary and order steamed, grilled or fried seafood, chowders, and lobster rolls at Day's Seafood Takeout. Or cruise into Bruces Burrito's, my go-to in the Yarmouth Marketplace shopping plaza, for fast, fat, cheap burritos.
Freeport
Both Old World Gourmet Deli and Royal River Natural Foods are reliable go-tos for sandwiches, soups, salads, and prepared foods. Old World makes half-size and kiddo sandwiches, and the chocolate chip cookies that alone are worth the stop. Royal River has grab-and-go  healthful fare and soups.
Wiscasset
Craving lobster? Operating since 1938, Red's Eats has gained a national reputation for its lobster rolls, which contain the meat from a whole crustacean, but unless you visit at an off-hour, plan on spending a long time in line. Is it worth it? I don't think so. The equally good alternative (favored by a lot of locals), is Sprague's Lobster, located on the dock just across the street.
Not a seafood fan? Not a problem. Aptly named Treats is a delicious find for scratch-made baked goods, sandwiches, soups, and salads. Wiscasset traffic is challenging; it's best to park in the direction you're heading.
Damariscotta
Loop through the village on Business Rte. 1 to find Larson's Lunch Box, a humble takeout serving everything from lobster rolls to kielbasa reubens. Pair it with a scoop from Round Top Ice Cream.
Waldoboro
Kitty-corner from Waldoboro's famed Moody's Diner, where the line often extends out the door, is Borealis. Although best known for its artisan sourdough breads, it also offers takeout sandwiches, soups, and sweets.
Rockland/Rockport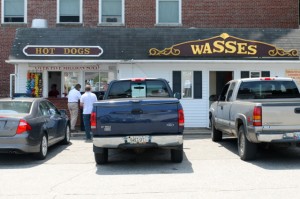 Rockland's tube steak palace is Wasses, a modular building backed up to the Brown Bag, a nod north of the ferry terminal. All are fried in peanut oil, and the special comes with fried onions, relish, and mustard.
Craving lobster? Claws, smack on Route 1, is a good bet, but the menu is far broader, with soups, salads, sandwiches, fried fish and seafood, and kid's choices.
In Rockport, pick up locally made cheeses and other Maine-made goodies at Rockport Marketplace and the State of Maine Cheese Company, which is also home to Maine Street Meats, source of specialty foods including cheeses, charcuterie, and house-made breads, along with soups, sandwiches, and flatbread pizzas. Equally enticing are the sandwiches, soups, pastries, and other goodies at The Market Basket.
Camden/Lincolnville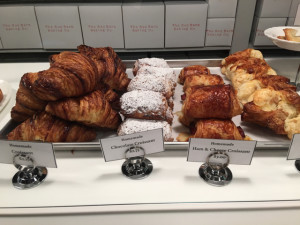 Since 1974, Scott's Place, a takeout near Reny's in the Camden Marketplace, has been Camden's roadside quick stop for hot dogs, burgers, veggie burgers, wraps, rolls, and more.
I'd vote Red Barn Bakery as the state's best seasonal bakery. The tarts! The pastries! The breads! The cookies! The croissants! Find it just off Route 1 on Bayview Street in Camden and in the Red Barn Marketplace on Route 1 in Lincolnville.
Another good source for eat-in or take-out pastries, sweets, sandwiches, soups, and salads is Dot's, located just south of where Route 1 hugs the beach in Lincolnville Beach.
Bucksport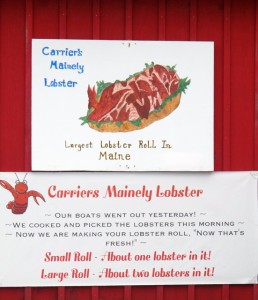 Carrier's Mainely Lobster, on the corner Rtes. 1 and 46,  is owned by a fishing family, and the fare here is fast, fresh, and unbelievably cheap. The large lobster roll is filled with the meat from about two of the tasty crustaceans is around $18. There's an indoor dining room out back as well as picnic tables. For super cheap eats, the lunch specials, served 11am-3pm, are all less than $3.
Roughly 100 yards up the road is another local fave that's stood the test of time. Crosby's Drive-In and Dairy Bar has been dishing out burgers, dogs, fried seafood, and ice cream since 1938. Thursday night is Cruise Night.
Ellsworth
Downtown Ellsworth is home to a number of sources of good, quick food. Rooster Brother is a culinary emporium with fresh sandwiches, cookies, breads, and other goodies on the lower level. 86 This!, one storefront off Route 1, dishes out made-to-order fat burritos and wraps. Detour off Route 1 by one block to find Morton's Moo a must-stop for fresh ice cream and gelato in creative flavors (Seriously, you must stop).
Hancock
Have a hankering for Korean? You oughta visit YU Takeout. Sonye Carroll and family serve bi-bim-bahp, boul-koh-kee, barbecued ribs, and kim-chee, along with burgers and dogs, homemade doughnuts, and Gifford's ice cream.
Sullivan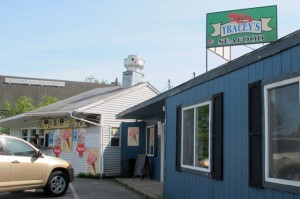 Tracey's Seafood doesn't look like much from the road, but don't be fooled. The Tracey family harvests the clams and catches the lobsters, shucks and picks, and dishes out ultra-fresh lobster, chowders, and fried seafood. Portions are big, prices are low — $4 burgers, two-fer-$12-18 lobster rolls (as low as $10), and weekend fish fries and clam fries with free seconds for $10.95. Don't miss the homemade pies. Order at the window or head inside for waitress service.
 Milbridge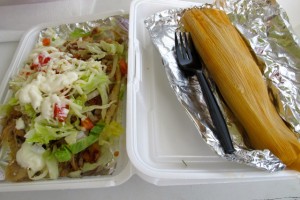 For years, Vazquez Mexican operated out of a food truck parked on back road, moving to the blueberry fields to service the migrant community from late July through August. In 2014, it opened a permanent takeout downtown serving burritos, gorditas, guaraches, tamales, tostadas, chimichangas, and specials such as enchiladas and new chile rellenos, in addition to burgers, Gifford's ice creams (big portion, low price) and other American-style usuals. Even better, Vazquez makes its tortillas from scratch.
Columbia
Say hi hi to American Pie, which makes lobster rolls, subs, and burgers, but is best loved for its hand-tossed fresh-dough pizzas in 8- to 24-inch sizes.
Machias
The options dwindle the farther downeast one travels, so plan ahead.
Look for Jo's World Famous Schnitzel Wagon on the left, heading north, as you're coming into Machias. Schnitzels, brats, German potato salad, deep-fried cheesecake, and more authentic German fare.
The Monster Haddock Burger and house-made onion rings reel road food cognoscenti into Riverside Take-Out, a don't-blink-or-you'll-miss-it red-and-white traileresque shack in a dirt lot edging the Machias River. Burgers, lobster rolls, and sweet potato fries also earn acclaim.
Whiting
To score one—or a dozen—of Jeremy Towne's homemade cake doughnuts, it's best to call to see whether his Towne Fryer (207-733-2066) doughnut mobile is parked at his Route 1 home in Whiting, the Route 1 dike in Machias, or elsewhere. The raised-honey-glazed sell out quickly, but check out the 3D, a chocolate doughnut iced with chocolate and sprinkled with chocolate chips, molasses, apple cider, chocolate coconut, pumpkin spice, and brown sugar coffee cake. One or two of these should power you right to the Canadian border.