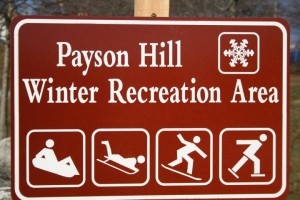 If you can't get to the mountain, than Ski Maine will bring the mountain to you—at least if you live in Greater Portland. Payson Hill, in Portland's Payson Park, is being transformed into the Payson Hill Terrain Park, courtesy of the Portland Recreation Department, with support of the Ski Maine Association. Yup, snowmaking, boxes, rails, and fun are in the forecast, especially for Wednesdays in the Park, from 1-3:30 p.m., through Feb. 16.
Ski Maine will have tent during Wednesdays in the Park, when uniformed staff from Maine ski areas will ski, ride, and demonstrate moves. No equipment or formal lessons are available, but there will be lots of support, guidance, and cheer.
Payson Hill, long a popular sledding venue, has gained new fans with the addition of the terrain park. Waterlines were added in 2009, allowing snowmaking to begin in 2010. For 2011, the hill was enlarged and contoured features were added to the slope.