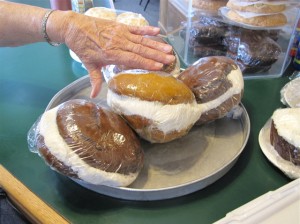 Since I'm dishing on dining in Aroostook County, Maine, figured I'd share another favorite local restaurant, Grammy's in Linneus, just southwest of Houlton. Now I've been to a lot of home-cookin' joints in Maine, but I've never seen portions as huge as those served in this place. Nor have I ever seen two-fisted whoopie pies. "One lady asked us to weigh one," a waitress told me when I was admiring them. "So I took it out back. The scale only goes to 2.5 pounds, and it went straight down and stayed there." A customer standing nearby said she buys one and easily splits it four ways.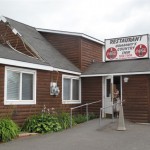 Everything at Grammy's comes in gigunda sizes. The couple next to us ordered chicken salad sandwiches. There must have been a pound of homemade goodness between those two slices of homemade bread. It required a fork to eat (seriously!).
Tom had a chef salad made with home-cooked chicken and home-cooked ham plus lots of other goodies (tons of vegies, meats, and cheeses and very little lettuce). It fed him for lunch, then the two of us later for dinner. One salad: three meals.
Had to laugh when I saw an ice cream puff go by: Must have been a pint of ice cream atop the pastry and drowned in chocolate sauce and whipped cream. Could have fed a family of four, but it was ordered by one lone guy at a table, who washed it down with milk.
Grammy's excels at deep frying, and that begins with the housemade fries. Remember, Aroostook is Maine's potato county. Now plenty of places claim to make their own fries, but as I left, I watched two young men outback peeling the potatoes. I'm a believer. The plates of fried clams came mounded atop the fries—kinda looked the Mt. Everest of fried seafood dinners!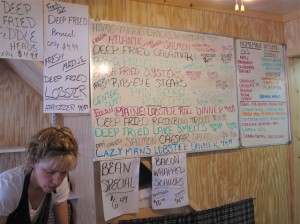 Now Grammy's will deep fry just about everything. The day's specials included deep-fried fiddleheads, deep-fried broccoli, and deep-fried lobster (? ! ). Sometimes, you can take a good thing too far, lobster? really?
Bottom line: If you're hungry or feeding a hungry bunch of teens, you'll all leave full, with leftovers, and you'll barely make a dent in the wallet. Nearly everything is less than $12. Better yet, service is friendly and efficient.