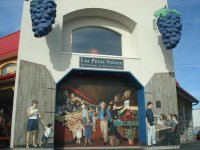 Whenever traveling between Maine and Quebec City, instead of stopping en route for that ubiquitous fast-food cheeseburger, I savor a taste of Quebec at Père Nature (Father Nature), just off the main highway in Saint-Georges. Fresh, flavorful foods with an authentic regional accent fill this combination market, gelato bar, café, and fine dining restaurant housed in a cheery orange, blue, and yellow building with can't-miss mural and a windmill (really!).
Eye candy abounds in the market. I can create a picnic to enjoy at either an indoor or outdoor table by pairing buttery, flaky croissants or crusty baguette with Quebec farmstead cheeses–try the tomme de kamouraska, a semi-soft raw sheep's milk cheese, the migneron de Charlevoix, a semi-soft cow's milk cheese, or the rassembleu, a raw milk bleu. I complement these with fresh fruit, smoked salmon, housemade pâtés, terrines, and confections. Sometimes, I opt for selection from the salad bar or prepared foods counter, maybe a smoked-meat sandwich. But I always finish with a scoop from the ice cream/gelato counter.
When I'm craving a hot meal, sometimes I'll  duck into Le P'tit Grand Café, serving crepes and omelets, croissants and beans for breakfast and a set three-course menu for lunch. I've yet to enjoy a leisurely meal in what many have told me is one of the region's finest, white-tablecloth restaurants, La Table Père Nature, serving regional French fare for lunch and dinner. The choices are extensive, but a fixed-price menu is available.
En route home, in addition to stocking up on cheeses and other goodies, I always pick up a Quebec meat pie to warm and serve as a taste-full souvenir. This time, I also purchased a Tortierre du Saguenary, which is currently warming in the oven. Pared with a salad, I expect to replicate a night in one of Quebec City's traditional restaurants. C'ést bon!
Père Nature is two-minutes off Route 173, about an hour north of Jackman, Maine. Turn west (toward the river) at the traffic light with Burger King. Just look for the windmill. Bon appétit!