I found a few changes and made a couple of discoveries in Kennebunk/Kennebunkport dining scene during my recent visit.
In Kennebunk, 50 Local just opened at 50 Main Street (a site that seems to change every year or so). It had yet to open its doors when I passed through, but its menu leans toward comfort foods (burger, pork chop, mac-and-cheese).
I was sorry to see that Port Bakery and Cafe, in Lower Village, has closed (sniffle, sniffle); it was a lunchtime favorite of mine.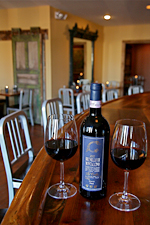 A pleasant new addition is  Old Vines Wine Bar, which opened about a year ago in a renovated barn and serves a nice variety of wines by the glass and bottle. Equally fun is the menu, which includes small bites, an impressive selection of cheeses and cured meats,  and sandwiches and salads. Nice spot within easy walking distance of Dock Square.
After wine at Old Vines, my friend Jean invited me to join her family for dinner at 95 Ocean, the dining room at her family-owned  resort/inn, the Nonantum. It turned out to be a pleasant surprise: an oceanview dining room, light entertainment, and very good food.  We began by splitting an appetizer of topaz, a house special comprisingf sweet dates, chorizo, and applewood-smoked bacon in a balsamic reduction; quite tasty. Next, I had a grilled Caesar salad, and finished up with another generous appetizer, the smoked duck confit, with cornbread pancetta and roasted red pepper coulis. While the entrees are enticing, the portions are generous, and my mix of apps and salad was plenty. Although, I have to admit Jean's seafood cioppino was quite enticing. Starters and salads run $8-15, entrees $12-2.
New in Cape Porpoise, near Goose Rocks Beach, is Brandy's on the Rocks, a sibling of the ever popular Wayfarer. It's owned and operated by Brandy Hynes with her brother Chris, who's chef. According to local Rauni Kew, of the Inn by the Sea in Cape Elizabeth, the restaurant and watering hole already has a strong local following. "It has Brandy's complete menu, but it's more high end, and live music is planned on weekends," she said. "It's a few notches up from local home cooking, and the restaurant is much larger than the Wayfarer." That's a good thing, since it's often near-to-impossible to land a seat at the Wayfarer. Nightly specials highlight customer favorites, like turkey or meatloaf, and already customers line up at the door in anticipation. UPDATE: Closed