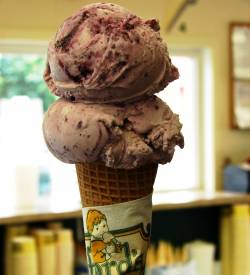 Yessiree folks, you know winter's really coming to an end when Gifford's Ice Cream opens its stands in Maine. Once again, the Maine-based premium ice cream maker is celebrating by giving away free two-scoop cones between 6-8 p.m. on Friday, March 18. Gifford's expects to give away at least 3,000 cones, representing about 1,5000 pounds of ice cream, at its stands in Auburn, Bangor, Waterville, Skowhegan, and Farmington (Stop in on your way up to the 'loaf this weekend; it's snowing here once again).
Return for a favorite flavor or be one of the first to taste a debut one. New among among the company's 50-plus flavors are butterscotch vanilla, cherry amaretto chip, and disappearing bubble gum.
If you can't get inland for a taste, other Maine-made ice cream stands already open for the season include John's in Liberty, Mount Desert Island Ice Cream in Portland, and my childhood fave, Red's, in South Portland.