Route 27 Arts debuts with Celtic Concert Series
Route 27 Arts, a new organization dedicated to bringing live music to Stratton and the Carrabassett Valley, has teamed with Skye Theatre to host a Celtic Concert Series. The six-concert summer series kicks off May 31 with Erica Brown & The Bluegrass Connection at 7 p.m. in the Stratton Community Center. Future concerts are: Ten Strings and A Goat Skin, July 5; Vishten, July 12; Isabeau et les Chercheurs D'or, Aug. 9; Samantha Robishaud, Aug. 29; and April Verch, Sept. 24. Tickets to all shows are $15.
Don McLean: American Troubadour at the Strand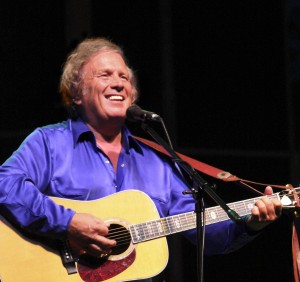 Take your Chevy to the Levee: On Sunday, June 2, The Strand Theatre in Rockland will host a special screening of the film Don McLean: American Troubadour that will be attended by Don and Patrisha McLean. The singer-songwriter who gave America American Pie, Vincent, Crying, and Castles in the Air amassed more than 40 gold and platinum records worldwide and was inducted into the Songwriters Hall of Fame in 2004. The film is a behind-the-scenes look at his career. Patrisha McLean will introduce the film and the couple will host a Q&A session after it. Tickets are $8.50.
Historic New England Open House Weekend
This Saturday, you can tour many of Historic New England's Maine properties for free. Castle Tucker and the Nickels-Sortwell House, both built in 1807 in Wiscasset; the 1785 Hamilton House and 1774 Sarah Orne Jewett House, both in South Berwick; the 1718 Sayward-Wheeler House, in York Harbor; and the 1789 Marrett House, in Standish, all will be open from 11 a.m.- 5 p.m., with free tours on the hour until 4 p.m.
New garden history lecture series debuts
The Penobscot Marine Museum in Searsport is kicking off its new Garden History lecture series on June 3 at 7 p.m. with Early American Garden Design: Popular Landscaping in Colonial and Victorian America. This talk, as all others in the series, will be given by horticulturalist Diana Chapin of The Heirloom Garden of Maine, in Montville. Tickets are $10 in advance or $15 at the door.
Whittle a warbler in one day
Not content to simply watch and listen to birds? Why not create one of your own. The Wendell Gilley Museum, in Southwest Harbor, offers numerous workshops in bird carving. Some are series (an introductory carving class begins June 4 and continues through September); others are one day, such as the Whittle-a-Warbler workshop on June 1.
Although many events are sold out, it's not too late to take part in the 2013 Kennebunkport Festival, June 4-9. From intimate dinners to grand galas, outdoor concerts to a fun 5K, art shows to sunset cocktail receptions, this year's festival has something for everyone, but it's especially appealing to those who appreciate food and drink. Get tickets now, before it's too late.