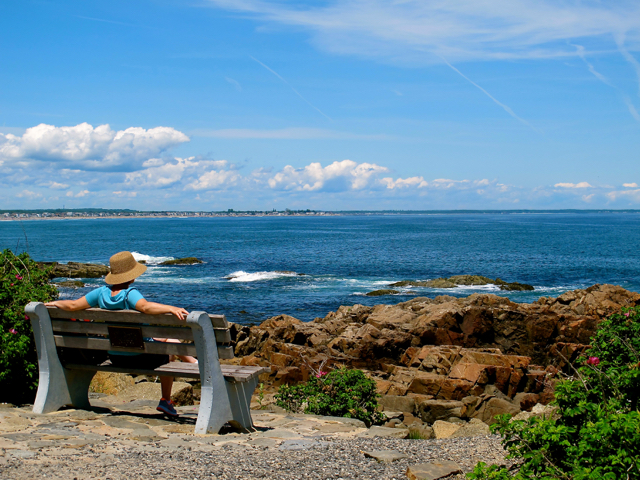 My list of Ogunquit must-see/do includes the gorgeous sand beach, of course, as well as strolling the Marginal Way, poking around Perkins Cove, attending an Ogunquit Playhouse production, and seeing the exhibits inside and out at the Ogunquit Museum of American Art. But there's more to this pretty seaside town.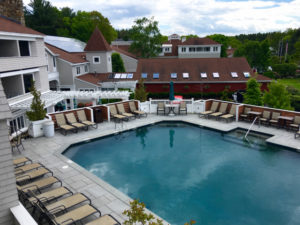 During a recent visit, I stayed at the Meadowmere Resort, founded by Allyson Cavaretta's father in 1983. I loved this campus-like property. It's ultra green and extremely family friendly, with indoor and outdoor pools, a full-size fitness center with sauna and steam room, a game room/arcade, a barbeque area, an intimate TV room, a pub, nice gardens, a wonderful Roman spa, an outdoor hot tub, and plenty of places to hide away for privacy. Plus, it's adjacent to Jonathan's Restaurant, within walking distance of everything Ogunquit offers, and it's open year round.
I figured Allyson might have a few insider tips to share, and she did.
If visitors only have a few hours to a day in Ogunquit, what must they see and any tips on making it special?
That's a challenging question, because Ogunquit has so many lovely little spaces.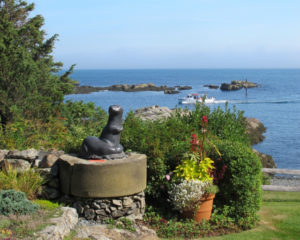 In summer season, make sure visit the Ogunquit Museum of American Art and especially the grounds—go all the way down to the cove entrance. There's something very special there, beyond the sculptures—you can see Perkins Cove from a special angle.
When walking the Marginal Way, everyone sits on the benches with the big views, but just above Perkins Cove are nooks with benches tucked among knotty trees, and these have special views. If you're walking along at low tide, head down on the rocks—the tide pools are wonderful.
There's also something fun about sitting in center of town and watching the hustle and bustle—the traffic and people going in all directions. Just take in the energy.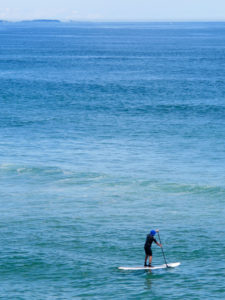 And, you can't come here without getting on the beach—our 3 miles of amazingness. If you're athletic, get on a paddle board and go further up river into the estuaries, you will hear and see outstanding birds and the tranquility up there is amazing.
What are some of the area's best underappreciated if not undiscovered places?
Grant Common Park is a great place to let kids run or to sit and enjoy the outside; it's serene and wooded. Also here is the Ogunquit Heritage Museum, with its heritage garden. It's a gem most people don't even realize is here. It's a nice spot to take a nice deep breath.
There's a hidden sculpture park at the base of Perkins Cove. When visiting, it feels as if you're walking onto someone's property, but it's an open park with sculptures in the middle (It's not associated with the museum). Walk from the cove and go over the bridge. It's on a bend in Shore Road; look for a sign pointing you down toward it. You have to walk, there's no parking.
Just inland, you can drive, bike, or hike to the summit of the Big A, Mount Agamenticus, for great bird watching and ocean views.
Any tips for the beach?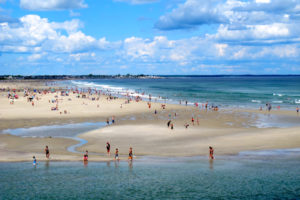 When the tide is out all way, where the river mouth meets the ocean currents, the river has a very special interaction with the ocean. You'll find tide pools, and that's when conditions are perfect for building dribble castles from the sand. It's also when the fish are running. If it's low tide, get on the bend on riverside, back there is great. If the tide is high, it's worth the walk to go further down and escape the crowds. Dunes are there, too, and it feels as if out on remote barrier beach.
Parking—the municipal lots fill quickly; time it right to park right at the beach. Better yet, use the trolley or walk. The beach has been here for generations; it will give you five extra minutes to get there.
I'm hungry, let's talk food:
 • Lobster roll: The trick to finding the best lobster roll is to go all the way in to Perkins Cove and around the back to The Lobster Shack. There's very little seating, so take it to go and sit on cove pilings and enjoy a real treat.
• Family friendly: Ogunquit Lobster Pound because kids love the lobster tanks. It's fun to sit on the picnic benches. And Jonathan's—most people think of it as white tablecloth restaurant, but it has an amazing kids' menu and amazing kids' area to color and play. It's farm to table without being fancy.
• Cheap Eats: You can't go wrong with a classic picnic: Go to Village Food Market for sandwiches and prepared foods, then enjoy it on a bench on the Marginal Way or on the beach or in Grant Park. But if you want a restaurant option, Jackie's down in the cove. It's a classic, been there forever, not fancy, but you get an ocean view with a burger.
 • View: Hand's down, MC Perkins Cove*. No question. Whether on first or second floor, it's like you're eating on the bow of an elegant yacht surrounded by water.
 • Fine dining: MC does excel at that, too — it's simply wonderful. But for a romantic dinner, Northern Union has great little seats and sections—go for the wine list and the culinary talent and the intimate atmosphere
 • Casual dining: Fun hip spot is Cornerstone. If it's winter or it's rainy, there's a warm wood-fired oven. Otherwise, sit outside on patio for the people watching. They figured out how to put lobster on a pizza and it's amazing. It's also best place to try Maine's craft beer scene
 • Wild card: Just outside of Ogunquit, in Cape Neddick, is Frankie & Johnnies. You must be stunningly hungry, because the portions are big. It's not a looker; it's all about the food. Dining here is like being in someone's house. Don't be in a hurry; relax and enjoy. It's also BYOB and cash only.
What do you wish all visitors knew before they came to Ogunquit?
Sometimes people think it's too congested in the summer, but the truth is, if you park your car and walk, there's plenty of space. Once you're here, Ogunquit is best discovered on foot—then traffic doesn't matter. Just slow down, you're on vacation, park the car, walk, or ride the trolley.
—
* Check out the Meadowmere Resort's Hit the Deck summer package including overnight lodging, dinner at MC Perkins Cove, a copy of the Maine Classics Cookbook, breakfast, and the resort amenities.