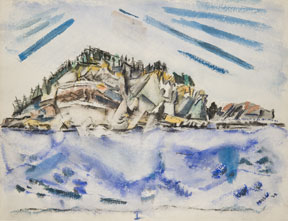 The first time I saw John Marin's work, I was hooked, so I'm thrilled to learn that John Marin: Modernism at Midcentury will be exhibited at the Portland Museum of Art, June 23–Oct. 11, 2011.
This show, which will focus on Marin's career between 1933 and 1953, is the first in-depth examination of the artist since 1990. On view will be approximately 60 paintings, drawings, and watercolors, including major loans from the Museum of Fine Arts, Boston, Museum of Modern Art, New York, and the National Gallery of Art, Washington, D.C., as well as museums and private collections throughout the country.
Folks, this is one to ink on your calendars. Marin is truly a modern master, and one who especially captures way Down East Maine. If you miss it here, the show will travel to the Amon Carter Museum, Fort Worth, Texas, in the fall of 2011.
Details, details: John Marin: Modernism at Midcentury is organized by the Addison Gallery of American Art, Andover, Massachusetts, and the Portland Museum of Art. The project is guest-curated by Debra Bricker Balken, a noted scholar who specializes in modern art. A 128-page catalogue authored by Balken will accompany the show and is being published by Yale University Press. The catalogue will be available in the Museum Store in the summer.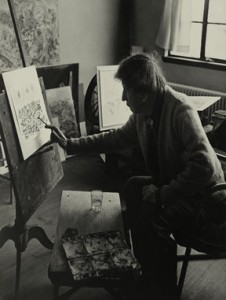 Background from the Portland Museum of Art: Based in New York and New Jersey, Marin followed a path time-honored by artists to coastal Maine.  Unlike an earlier generation, however, Marin brought his modernist eye to Maine's venerable landscape. He initially painted near mid-coast Small Point in 1914, but in 1933 began summering in remote Cape Split.
This move farther north heightened the painter's commitment to a raw, unspoiled landscape. Marin sensed the radical potential for his painting on Cape Split; the possibility to transform the ephemeral patterns of waves into innovative compositions would forecast some of the primary features and preoccupations of mid-century American art.

By the time he took up residence along the coast of Maine, Marin had begun to work in oil on canvas alongside his staple of watercolor. The medium of oil, with its innate fluidity and viscous texture, suited capturing not only the impact of the wind, sun, and rain on the sea but the intense blue and green colors of its waters. His work in oil and watercolor came to inform each other as the saturation of the former and immediacy of the latter were placed in service of more compact and non-referential compositions.
While the sea became a focus of Marin's work after 1933, he would never forgo the New York skyline, or the Ramapo hills and Saddle River of New Jersey. He continued to mine these sites for their vitality, but they became progressively non-representational, employing geometric patterns, and culminating in the 1950s in calligraphic, lace-like statements. Many of Marin's oil paintings during this period were accompanied by stock frames which he painted with loose, geometric shapes as an extension of the canvas.