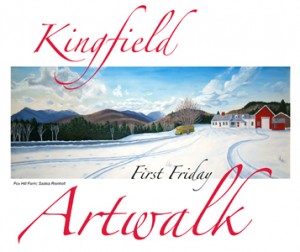 Unlike most Art Walks, which run during the warmer months, leave it to Kingfield, in the shadow of Sugarloaf Mountain, to schedule its new first Friday of the month Art Walks from December through March.
Eight intown locations are participating in the walk, which takes place the first Friday of each month through April from 3-8 p.m. Some venues will have refreshments, others might have live music or poetry readings. Dates for 2011 are: Dec. 3, Jan. 7, Feb. 2, March 4, and April 1
Participants include: Mountain Village Farm B&B, Stadler Gallery & Studio (open 'till 6pm,) Reinholt Fine Art Gallery & Furniture Studio, CSM Real Estate, School House Nature Photography Gallery, The Ski Museum of Maine, and The Stanley Museum. All are on Main St. except The Stanley Museum which is on School St.
I poked my head into a couple of the galleries yesterday afternoon as they were preparing their shows. There's some might fine artwork to be seen, and couple that with the collections at the ski museum and the Stanley museum, and it'll be easy to make an evening of it.