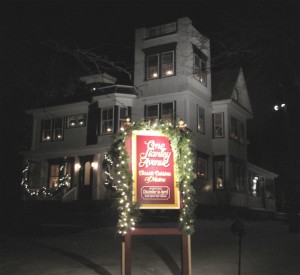 Most chefs toy with their menus frequently; some daily, others weekly or quarterly. Not so Dan Davis, chef/owner of One Stanley Avenue, in Kingfield, Maine. He's owned the restaurant, one of, if not the best, fine dining options in the region, since 1972, and his menu really hasn't changed since 1998. And maybe that's a good thing, because when you've had nearly 40 years to perfect an entrée, and you're passionate about what you serve, the results tend to please the diners, too.
When I dine at One Stanley, I know I'm in for a leisurely evening, one with attentive service and well-prepared classic Continental-style fare with a Maine accent. Davis termed his fare the "classic cuisine of Maine." He says his "understanding of Northern Maine and all its natural goodness has helped develop my appreciation for indigenous Maine dishes, flavorings and spicings, through which I have created a truly regional cuisine." This decades before the "eat local" or Slow Food movements began.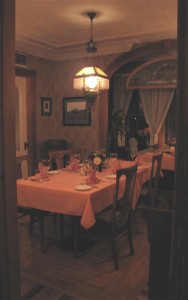 One Stanley manages to be both comfortable and elegant, not an easy mix. One is as welcome here in jeans as in a tux, and somehow that works. Davis has decorated the former Victorian home in period style, furnishing it with antiques and letting the architectural details, such as wood floors and stained glass windows shine. There's a living room with small bar and a piano on one side of the center entry hall, a warren of small dining rooms, including a porch, on the other. The rooms are intimate, conversation tends to be quiet. There was no background music on my most recent visit, but I'm thinking this was an anomaly or that the system wasn't working, as there was a speaker in the room.
The meal: We began by splitting an order of the lamb sausage with mint cider sauce ($6). Prior to it's arrival, we were served a small, warm loaf of whole wheat bread. I could have made a meal of these, with the salad, that's included with the meal. The appetizer portion was large, even splitting it, there were leftovers. The flavor was excellent. I can see why this one stays on the menu.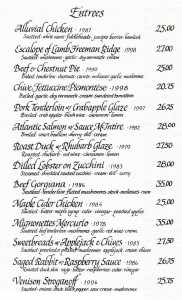 After much deliberation (the escalope of lamb Freeman Ridge and the beef & chestnut pie were quite tempting), we chose our entrees: venison stroganoof (sautéed onions, stock, black pepper, sour cream, mushrooms; $25.75), which has been on the menu since 1996, and saged rabbit with raspberry sauce (roasted duck skin, sage, butter, raspberries, cider vinegar; $26.75), which has been pleasing palates since 1986. I'd order either again. Both were rich, flavorful, and deeply satisfying.
Bottom line: One Stanley Avenue's menu isn't for those who like to eat light. The entrées are hearty, heavy, and rich (cream! butter!), but on a cold winter's night, after a day of skiing at nearby Sugarloaf, snowshoeing or skiing the Maine Huts Trail, or snowmobiling the Black Fly Loop, such fare fills the belly and warms the body. And since the restaurant is only open in winter, that's fine by me.
And one more thing: Davis also owns the adjacent antiques-filled Victorian, Three Stanley Avenue, and operates it as a low-key B&B with three bedrooms with private baths and another three sharing two baths; there are no public rooms in the B&B. Winter rates, which include breakfast at the restaurant, are $80 with private bath, $75 with shared double; single rates and summer rates are lower. The building has a rich history, as it was built by Bayard Stanley, youngest brother of the famed Stanley twins of Stanley Steamer fame (you can learn more about the family at the Stanley Museum in town).