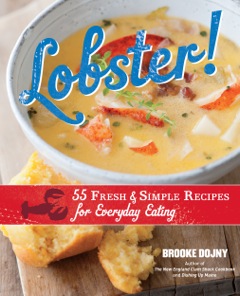 Cookbook author Brooke Dojny's done it again. Lobster! 55 Fresh & Simple Recipes for Everyday Eating (Storey, $14.95) is a summer must have for anyone who enjoys Maine's tasty crustacean.
Dojny, who lives on the Blue Hill Peninsula, knows Maine and knows lobster. She draws not only from her own well of recipes but also from the knowledge and experiences of others, from lobstermen to chefs.
The book's introduction covers all the basics, from catching and lobster lingo (cars, hens, keepers, rippers, shedders, smellers, etc) to cooking basics. After that, recipes are broken down into chapters for hors d'oeuvres; salads;chowders and stews, mains; rolls, tacos, pizzas, and sandwiches, sides, and desserts.
The book is salted with photos and notes, quotes, trivia, and quizzes, making it not only a good resource, but also a fun read. And if you're squeamish about killing lobsters, most recipes allow for store-bought lobster meat, saving you that experience.
Here are two recipes excerpted from Lobster! © Brooke Dojny and used with permission from Storey Publishing.
• Potted Lobster Mousse
This lovely creamy mousse is an excellent way to turn a bit of leftover cooked lobster into a simple and delicious appetizer. "Potted" is an old British culinary term for a method of preserving perishable food (especially seafood) in melted butter. Although these days we have refrigerators and freezers for that purpose, I still like the old name.
3/4 cup roughly chopped cooked lobster meat (3–4 ounces) (see Note)
1/3 cup whipped cream cheese
4 tablespoons cold butter, cut into small chunks, plus 1 tablespoon, melted
2 teaspoons grated lemon zest
2 teaspoons lemon juice
1/2 teaspoon liquid hot pepper sauce
3 tablespoons snipped fresh chives, plus spears for garnish
Salt
Crackers, for serving
Makes 3/4 cup, about 6 -appetizer servings
1. Pulse the lobster meat in a food processor until finely chopped and remove to a bowl; do not wash the processor.
2. Combine the cream cheese, cold butter, lemon zest and juice, and hot pepper sauce in the food processor and pulse until well blended. Add the lobster and pulse until quite smooth. Transfer to a bowl, stir in the snipped chives, and season with salt to taste.
3. Scrape the mixture into a ramekin and pour a thin layer of melted butter over to seal.
4. Refrigerate for at least 4 hours to allow the flavors to blend. (The ramekin can be filled up to 2 days ahead.)
5. Remove the ramekin from the refrigerator about 2 hours before serving. Garnish the mousse with chives and spread onto crackers to serve.
Note: Cook one 1-pound hard-shell lobster and remove the meat (see chart, page 15) or buy picked-out meat.
• Seashell Lobster Pasta Salad with Lemon-Dill Cream
Seashell pasta is the perfect shape for a lobster pasta salad. Not only are the shells reminiscent of the ocean, but they're also ideal for catching plenty of the lemon-dill cream. Add a basket of seeded French bread and serve Mocha–Chocolate Chip Shortbread Cookies (page 130) and bunches of green grapes for dessert.
Cream
3/4 cup mayonnaise
1 tablespoon Dijon mustard
2 teaspoons grated lemon zest
1 tablespoon lemon juice
Salt and freshly ground black pepper
11/2 tablespoons chopped fresh dill
Salad and Garnishes
10 ounces small or medium pasta shells
1 small yellow bell pepper, seeded and chopped
3/4 cup thinly sliced celery
1/2 cup chopped red onion
11/2 cups chopped cooked lobster meat (7–8 ounces) (see Note)
Salt and freshly ground black pepper
About 6 lettuce leaves for lining platter
1 tomato, cut into wedges
4 thin lemon slices
Fresh dill sprigs for garnish
4 servings
1. Bring a large pot of salted water to a boil for the pasta.
2. To make the lemon-dill cream, whisk the mayonnaise with the mustard, lemon zest, and lemon juice in a small bowl. Season with salt and pepper to taste. Stir in the dill. (Can be prepared up to 24 hours ahead.)
3. Cook the pasta in the boiling water until al dente, about 10 minutes. Drain into a colander, rinse under cold water, and drain well.
4. Toss the cooked pasta with the bell pepper, celery, onion, and lobster meat. Drizzle most of the dressing over the pasta and toss until well blended. Season with salt and pepper to taste. If the salad is dry, add the remaining dressing. Refrigerate for at least 1 hour. (Can be prepared up to 12 hours ahead.)
5. To serve, line a platter with lettuce, spoon the salad into the center, and garnish with the tomato, lemon slices, and dill sprigs.
Note: Cook one 1½-pound hard-shell lobster or two 1-pound soft-shells and remove the meat (see chart, page 15) or purchase picked-out meat.