Maine artists are being showcased in exhibitions at both the Portland Museum of Art;  the Farnsworth Museum, in Rockland; and the Colby Museum of Art, in Waterville.
Weatherbeaten: Winslow Homer and Maine opens at the Portland Museum of Art
In conjunction with the opening of the newly restored Winslow Homer Studio, the Portland Museum of Art is showcasing 35 major oils and watercolors painted during Homer's tenure at his Prouts Neck studio. The exhibition features works drawn from  museums nationwide, including the Art Institute of Chicago, the Smithsonian American Art Museum, Washington, D.C., and The Sterling and Francine Clark Art Institute, Williamstown, Massachusetts. Many of these works have not been seen in Maine for more than a generation and, due to their extraordinary rarity and importance in the history of American art, likely will not be viewed together again for decades to come.
Complementing the Homer show and opening Oct. 6 is Between Past and Present: The Homer Studio Photographic Project, an exhibition of contemporary photography made with a variety of historic processes available during Homer's lifetime. These include tintypes, platinum prints, salt prints, and gum bichromate prints. The Museum commissioned a group of photographers for this project including Abelardo Morell (camera obscura), Keliy Anderson-Staley (wet-plate collodion), Brenton Hamilton (gum bichromate), Tillman Crane (platinum prints), and Alan Vlach (salted paper prints). Images of the Homer Studio will include architectural studies, views of the landscape, interior scenes, and even still-life subjects of the few objects that survive from Homer's day.
Both shows continue through Feb. 17, 2013.
Farnsworth extends two summer exhibitions & offers lecture series

If you missed Impressionist Summers: Frank W. Benson's North Haven or The Homestead Project at the Farnsworth this summer, you're getting a reprieve. The Benson exhibition, comprising approximately 70 works, will continue through Dec. 30. The Homestead one, which includes the works of 10 architects and architectural designers, will remain on view through Dec. 9. Also on view through Dec. 30 is Jamie Wyeth, Rockwell Kent and Monhegan. That triple-header is well worth making a pilgrimage to the Rockland museum.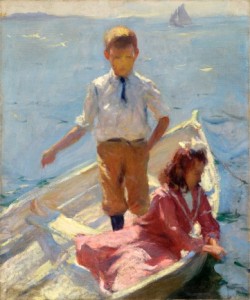 In conjunction with the extended Benson exhibition, the Farnsworth is offering The Play of Light: French and American Impressionism and Frank W. Benson, a three-part lecture series by Stephen May, an independent historian and writer specializing in art and culture. The lectures take place in the museum's auditorium on three consecutive Wednesdays at 5:30 p.m., beginning Oct. 10.
The series opens with an examination of the origins of French Impressionism in mid-nineteenth-century Paris. The next lecture provide an overview of American impressionism, illustrating its similarities and differences with the French. Lastly, Frank W. Benson's entire career will be surveyed, with special attention paid to the periods when he was away from North Haven.
Cost is $39 for the series, or $16 per lecture. Reservations are suggested.
 Colby Museum of Art displays works by and selected by Alex Katz

Artist Alex Katz curated Inner Visions, the third exhibition in the Colby College Museum of Art's Discoveries series. Katz selected and arranged modern and contemporary paintings and works on paper from the museum's collection, choosing those he cnsideres "relevant to our times and to each other." Inner Visions is on view through Oct. 7.
Alex Katz: Maine/New York, curated by Carter Ratcliff, pairs the artist's perpectives from New York City and Maine. The works shown were drawn from the museum's collection, along with that of the artist, and selected loans, to illustrate the urban and rural subjects that have influenced Katz over the past six decades.
Museum admission is free.