While most inns and B&BS will, with advance notice, prepare vegetarian (and sometimes vegan) breakfasts, a few cater to the meat-free crowd. Honestly, even those who aren't vegetarian will enjoy staying at these properties.
This lovely intown property, built in 1903 by architect Frederick Savage as his summer home. Expect eco-sensitive products and fixtures, local and organic products, recycling, low-impact practices, and bountiful vegetarian breakfasts, as well as contemporary amenities including TV, AC, and Wifi.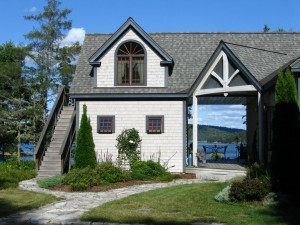 This 40-acre organic oceanfront farm, located on the east side of Hancock Point, fronts on Sullivan Harbor, just below the Reversing Falls. It's completely off the power grid, and owners Ed and Karen Curtis have completed a conservation easement through the Frenchman Bay Conservancy to protect this special, private, spectacular land from development. The design is passive solar; photovoltaics provide electricity; appliances are primarily propane-powered; satellite technology operates the TV and Internet systems; a masonry heater provides warmth in winter. Guests stay in one of two rooms in a separate building that's attached to the main house, where a full, vegetarian breakfast is served. See my post.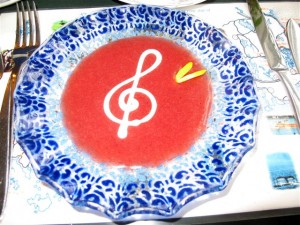 Situated on more than 200 acres of Schoodic Peninsula land that encompass seven varied habitats, from sand beach and salt marsh to forests and meadows, and comprising two early historical homes, this classic Maine inn is just the kind of place folks from away think of when they dream about Maine. Innkeepers Sonja Sundararm and Ben Walters have cut trails through the woods and meadows and created guides to flora and fauna in each of the habitats on the property. They've also turned the barn into a performance room, staging an arts series each summer with lectures and concerts. Sonja's three-course vegetarian breakfasts usually include a fruit soup, pastry or bread, and main course, perhaps a quiche or blueberry pancakes. See my post.
 The Fiddlehead Inn, Brewer
Just over the bridge from and withing walking distance of downtown Bangor, The Fiddlehead Inn is an ideal spot for those seeking vegetarian fare. Innkeeper Saundra Haley's 1885  carefully renovated and meticulously decorated inn is listed on the Brewer Historical Society Register of Historic Homes. The two guestrooms do share the one newly renovated bathroom, outfitted with a Victorian clawfoot tub/shower, although with advanced notice, it may be possible to have a private bath. The full breakfast draws from locally sourced fruits and vegetables, when available, and vegan and gluten-free options are possible with advance notice. Guests are asked to remove shoes upon entry, but laundered slippers are available.
Here are two more possibilities I've yet to verify: Shore Path Cottage, Bar Harbor, and The Munroe Inn, Lewiston.