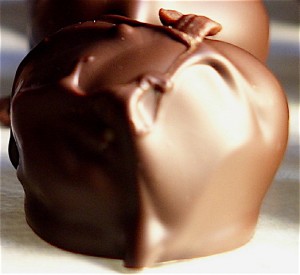 Maine has an official art museum trail, a maritime heritage trail, an architecture trail, even a garden and landscape trail. It doesn't have a chocolate trail, but it should. So I've created one based on the must-stop chocolate shops salting the coast from Kittery to Calais.
Yes, there are more mainstream chocolate shops–Len Libby's, in Scarborough; Haven's in Portland; Wilbur's in Freeport come to mind–but my Maine Coast Chocolate Trail comprises artisan shops selling hand-crafted truffles, bark, and bonbons. These aren't kid-in-a-candy-store chocolates; they're more like adult soft porn: luscious, decadent, sinful and capable of producing audible moans when tasted. Now here's the best part, thanks to mail order, even armchair travelers can indulge. One piece of advice: Call before making a special trip.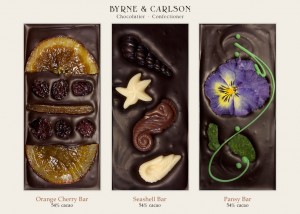 Ellen Byrne and Christopher Carlson don't make just chocolate bars, they create works of art that are almost too pretty to eat. Some have flowers, leaves, or fruit embedded in them. And the flavors match the creativity. The pansy bar, made with Belgian dark chocolate looks as if the crystallized pansy and mint leaves are actually growing in the chocolate. But their chocolate isn't simply eye candy, it's also delicious and comes in flavors, such as chipotle sea salt, which adds zing to classics.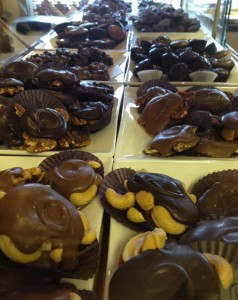 Sandra and Kevin Freeman's heavenly scented shop sells the usuals, such as peanut butter cups, truffles and turtles, but Sandra, the chocolatier, likes to play with flavors. That results in new twists on familiar items, such as barks made with blueberry, peppermint, and a cranberry pistachio, made with freshly shucked nuts. And everything is made with Belgian chocolate. Yum.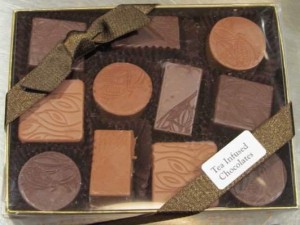 The enticing aromas emanating from Harbor Candy Shop will lure any passing chocoholic inside.  Skip the mainstream offerings and head to the specialty truffles and other goodies made fresh on site. The sandwich pralines are exquisite, or how about caramallows, which combine fresh, made-on-the-premises caramel with marshmallow and dark chocolate? Even vegans can rejoice, with raspberry crème baskets, made using soy milk and available in dark chocolate, rice milk chocolate and dark chocolate raspberry, and plentiful other no-guilt vegan choices, including truffles, peanut butter cups, bark, and chocolate-covered fruits. Oh my!
Portland is well regarded as a foodie town, and it does have a couple of chocolate shops, but for true chocoholics, nothing but truffles from Dean'sSweets will do. Dean Bingham, an architect, creates his hand-dipped dark chocolate works of art in small batches. Daily selection is ruled by serendipity and whim; tequila-lime, single-malt scotch, cayenne are just a few possibilities. Or try his Maine-accented assortment of four flavors all associated with Maine: maple, blueberry, raspberry, and his take on the classic needham, made not with mashed potatoes, but with Cold River Vodka. All are nut free; a real plus for those with allergies. Don't miss the salt caramel, and do try his latest flavor, bacon-butter crunch (okay, maybe not).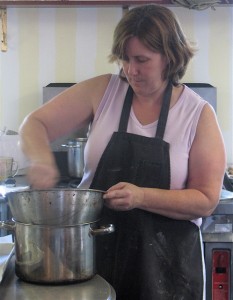 Melinda Richter's dark chocolate-enrobed peanut brittle is reason enough to wind down Route 24 from Cooks Corner in Brunswick to The Island Candy Company. The Atlantic shimmers behind the shop, colorful perennials fill a garden in front of it. Inside, chocolates fill multiple cases, and many are made with her caramel. The turtles rival the peanut brittle, and her toffees and barks, especially the pistachio, are heavenly. You might even catch Melinda making chocolates when you visit.

Look for bars and truffles from Safe Harbor Confections in specialty shops from Kittery to Milbridge and inland to Fryeburg. These chocolates not only taste delicious, but also help animals in need by donating profits and products to animal welfare organizations nationwide. Safe Harbor's retail shop is Gifts at 136, in downtown Damariscotta. Not only can you purchase Safe Harbor's chocolates, but also  a well-curated selection of Maine-made art and fine and folk craft, with choices in all price ranges. Don't miss it.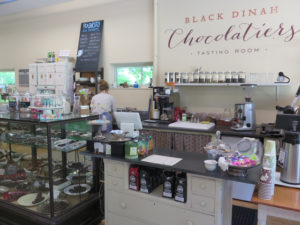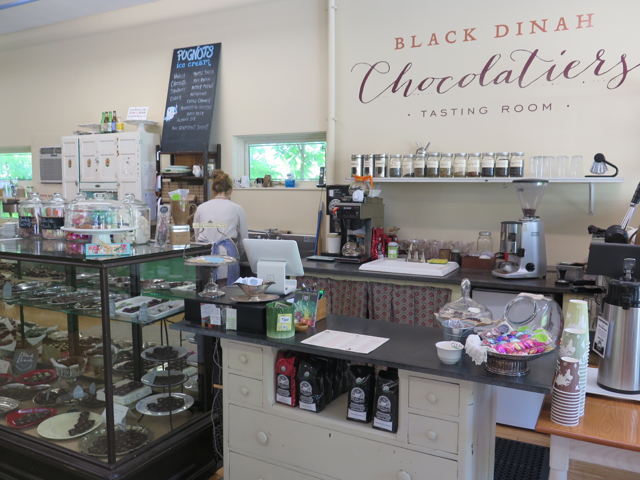 Kate and Steve Shaffer use fresh local cream and, when possible, locally harvested organic herbs and fruits to flavor their hand-crafted truffles available at their Black Dinah Cafe. "It's not about milk or dark, it's about flavor," Steve says, when asked about the intriguing blends. Try the chocolate gingerbread, which really does evoke the fragrant dessert, or the sexy Mexi, a milk chocolate truffle flavored with whole ancho chiles, vanilla, canela (Mexican cinnamon), and cardamom. "The lavender changed my life," one happy customer told Steve. Black Dinah, which originated on Isle au Haut and now produces its chocolates in Westbrook, shares space with Fairwinds Florist in downtown Blue Hill.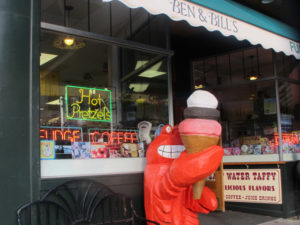 Yes, Ben & Bill's, in downtown Bar Harbor, on Mount Desert Island, is a sibling of Massachusetts-based shops, but that doesn't make it any less a delicious stop. I'm a huge fan of the dark chocolate-covered pretzels, and my husband thinks the peanut butter cups here are superb, but what distinguishes this shop is that it not only makes chocolates and candies, but also ice creams; better yet, many of the homemade ice creams are flavored with the homemade candies.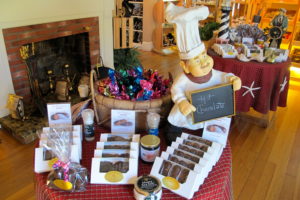 Oh my! Monica Elliott draws on her Peruvian background to create amazing chocolates—rich, decadent, delicious. If she's around, she'll guide you through the flavors and a tasting. Don't be surprised if you depart spending far more than you planned–these are just too hard to resist. Now the bonbons flavored with the Peruvian filling are beyond memorable, and available in almond, apricot, plum, coconut, walnut, and pecan, all wrapped in bittersweet chocolate; but don't stop there. Try the sea cucumbers, made with chocolate, caramel and peanut butter; the pistachio creams; bourbon-with-pecan truffles; and the beyond decadent sea urchins, made with bittersweet chocolate, caramel, toffee, Peruvian filling, and pecans. And, well you get the point. Oh, and her hot chocolate is definitely worth the splurge.