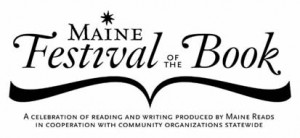 Dig out from under Friday's predicted monster storm and plan to attend the annual Maine Festival of the Book, April 1-3, 2011. With the exception of Friday's Opening Night program, An Evening with Stewart O'Nan and Julia Glass, all events are free. That program is $10, if you haven't already purchased tix, and seating is limited.
The jam-packed schedule includes programs for all ages, including many by renowned authors. There are author presentations, book signings, readings, panel discussions, the Saturday night Poetry Party, Sunday's Book Arts Bazaar, and a dramatic reading. All are first-come/first served, and all take place at the Abromson Center, on the University of Southern Maine's Portland campus.
Presenters at the 2011 Festival of the Book include:
• Paul Harding, winner of the 2010 Pulitzer Prize for fiction
• Sarah Braunstein, a winner of the 2010 National Book Award 5 under 35
• Julia Glass, winner of the 2002 National Book Award for Fiction
• Stewart O'Nan, bestselling novelist
• Lily King, winner of the 2010 New England Book Award for Fiction,
• Tom Allen, President and CEO of the Association of American Publishers
• Margaret Roach, AwaytoGarden blogger and former editorial director for Martha Stewart Living Omnimedia
Programs range from those geared to aspiring and professional writers to those designed for the general public. Here's a small sampling:
• Coot Stew and Other Tales of Maine Cooking, with noted food historian SAndra Oliver
• Evil Characters We Love to Hate, the art of developing believable villains, with authors Jacqueline Sheehan and Ellen Meeropol
• Exploring the Future of Fly Fishing, with Paul Guernsey, former editor of Fly Rod & Reel magazine and author of Beyond Catch and Release: Exploring the Future of Fly Fishing
• The Fine Line Between Fiction and Nonfiction, with Shonna Milliken Humphrey and Hannah Holmes
• Wrestling a Book Into the World, with Paul Harding, winner of the 2010 Pulitzer Prize for fiction, and Sarah Braunstein, named one of 2010's 5 Under 35 fiction writers by the National Book Foundation
And this barely scratches the surface of the variety of programs and the talent presenting them. Super event, don't miss it!