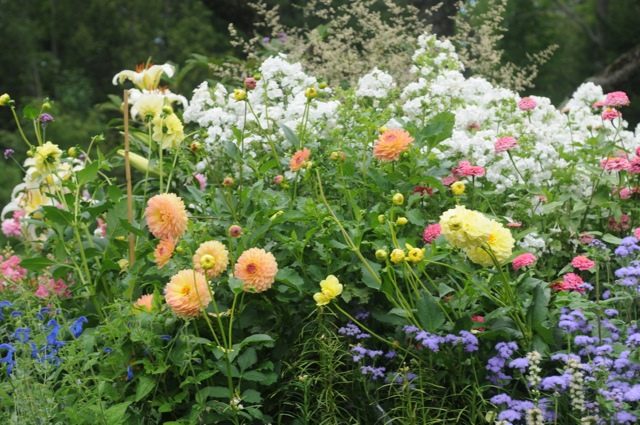 Take time to smell the flowers during annual garden tours throughout Maine. While most tours occur on only one day each summer, a few are spread out over the season. Hint: Buy tickets in advance, when possible, as they usually are less expensive (but do note that tours are usually rain or shine, so you take your chances on the weather).

What: One garden in greater Belfast will be open each Friday for touring and refreshments.
When: Fridays, June 16, 23, 30; July 14, 21, 28; Aug. 4, 11, 18, 2017
Cost: $5 one garden or $30 for all nine (purchase at Left Bank Books, Belfast), benefits maintenance of 12 local public gardens and scholarships for Waldo County students studying horticulture and related subjects.
What: Visits various gardens focusing on peonies, although other plants are on view

When: June 17 and 24, 2017, 9am-4pm; tours depart from 1348 Ohio St., Bangor
Cost: $3 donation appreciated; benefits Peony Society efforts to educate and propagate.
What: Fifteen annual self-guided tour of historic homes and gardens in Bath. Tour begins at the Winter Street Center on Washington Street,
When: June 17, 2017, 10 a.m.-3:30 p.m.
Cost: $25 advance, $30 day of tour; benefits Sagadahoc Preservation, Inc. (Bath B&B's guests receive a discount).
What: Self-guided tour of eight private gardens in the Sebago Lake region. Post-tour Strawberry Festival with speaker and shortcake ($10/adult, $5/child).
When: June 24, 2017, 9am-3pm (rain date June 25)
Cost: $15/advance, $20 day of tour; benefits Raymond Village Library.
What: Walking tour of the restored garden of 19th-century poet and writer Celia Thaxter, author of An Island Garden.
When: June 29; July 16, 8, 21, 25, 29; Aug. 4, 9, 2017
Cost: $100, including round-trip transportation from New Castle, N.H., guided tour, and lunch.
What: Garland Farm, the ancestral home of Lewis Garland, property manager for landscape architect Beatrix Farrand's famed Reef Point property, and Farrand's home and gardens. Farrand moved here after dismantling Reef Point in 1955, and worked with architect Robert Patterson to design the addition, where she lived, utilizing some of the architectural pieces and furnishings she saved. The house, library, and garden are open to visitors for guided house and self-guided garden tours as follows.

When: June 29-Sept. 28, 2017, Thursdays, 1-5pm,
Cost: $5 donation recommended
What: Self-guided walking tour of select private gardens on Munjoy Hill; begins at Fort Allen Park HQ on Portland's Eastern Promenade
When: July 9, 2017, 10am-4pm
Cost: $15 advance / $20 day of event; benefits Friends of the Eastern Promenade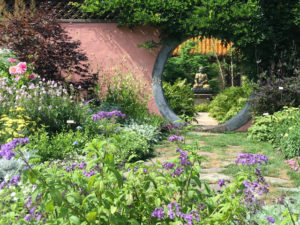 Abby Aldrich Rockefeller Garden Open Garden Days

What: Self-guided tours of the Walled Garden and grounds of the Rockefeller Aerie Estate in Seal Harbor, on Mount Desert Island.
When: Thursdays, July 13-Sept. 7, 2017, 9-11:30am and 12:30-3pm
Cost: Free, advance reservation required. Reservations open June 1 for season.
What: Nine private coastal gardens in Cape Elizabeth and South Portland
When: July 15, 2017, 9 a.m.-4 p.m.
Cost: $25/advance; $35 day of tour; benefits Fort Williams Foundation Arboretum Project.
What: The self-guided 26th Gardens in the Watershed (of the St. George River) Tour features five private gardens in Union, Appleton, and Alford Lake, as well as a short talks. Reserve in advance for lunch ($10) and after-tour reception
When: July 16, 2017, 10 a.m.-4:30 p.m.
Cost $25 advance, $30 day of tour; benefits Georges River Land Trust.
What: The 70th annual tour presented by the Camden Garden Club features seven properties including small town cottages, an 1820s gem updated for modern living while maintaining the charm of its origins, a 60-acre transformation of one man's unique and personal vision, and a magnificent Arts and Crafts estate sited on 21 acres overlooking Penobscot Bay.
When: July 20, 2017, 9:30 a.m.-4 p.m.
Cost: $35 adv./$40 day of tour (no credit cards day of tour
What: The Sea Around Us featuring homes and gardens on the Boothbay peninsula.
When: July 21, 2017, 9:30am-4:30pm
Cost:
$30/advace, $35 day of tour; benefits scholarships for advanced educationinecology, marine biology, horticulture, botany and earth sciences as well as YMCA Camperships for local children.
What: A Tour of the Quietside Gardens of MDI featuring seven gardens and an Outdoor Market.
When: July 22, 2017, 10am-4pm
Cost: $20/advance, $25 day of tour; benefits community projects and helps fund college scholarships for horticulture and environmental studies.
What: Self-guided tour of three private gardens in York:
Braveboat Harbor Farm, with formal and informal borders, a vegetable garden, orchards, and collections of various flowering trees and shrubs. Apples and pears are espaliered on the Georgian-style house and along the walls of the formal front garden. Water features include a newly expanded pond in the woodland garden, a farm pond with rustic bridge, and the Atlantic Ocean. Garden is protected by a sculpted arborvitae hedge, a mature stand of hickory, and an extensive screen of old lilacs. New projects include expanding the collection of magnolias and rhododendrons, introducing hydrangeas, an espaliered pear fence, a woodland walk, a summerhouse with views to the pond and the sea, and replanting the front walled garden.
Boardman Vegetable Gardens, a mini-homestead adhering to organic and permaculture principles.
Pondfield: the primary garden is designed to serve as the foreground and to frame the expansive view across tidal Barrell Pond, the Wiggly Bridge, and the York River. Densely planted, the color scheme is key—pink, purple, and blue. By contrast, a gravel courtyard is enclosed and intimate. The color scheme of the planting beds surrounding the courtyard is yellow, red, and orange.
When: Aug. 5, 2017, 10am-4pm, and Aug. 6, 2017, 12:30-4pm
Cost: $7 per garden.
What: Old York Historical Society tour of homes and gardens
When: Aug. 10, 2017, 10am-4pm
Cost: $40/advance, $45/day of tour; benefits Old York Historical Society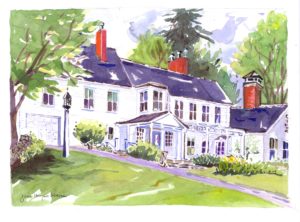 What: This year's tour peeks into historic family camps, charming older homes, beautiful newer homes, fall gardens, and architectural landmarks in the region between Pocasset and Androscoggin Lakes.

When: Sept. 9, 2017
Cost: $25/advance, $28 day of tour; benefits The Wayne Community Church and the Cary Memorial Library.