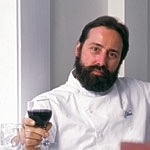 On Saturday, March 31, Maine Huts and Trails is offering a special four-course meal prepared by Chef Michael Gagne at its Poplar Falls Hut, in Carrabassett Valley, Maine. Not only do you have to work for the privilege by hiking into the hut, but you also have to pay a premium for it, as this is a fund-raising event to benefit the organization's efforts to work with local farmers and suppliers.
For $250 per person or $450 per couple, you receive the dinner, wines, hut lodging (don't forget a sleeping bag or at least sheets and pillow case; pillow and blanket are provided and huts are heated), and a hearty breakfast the next morning. The evening's meal includes hors d'oeuvres, appetizer, main course, and dessert. All will be prepared by Gagne, who presided over the Robinhood Free Meetinghouse in Georgetown and is the creator of the to-die-for cream cheese biscuits now sold by his Gagne Foods specialty food company.
The roughly five-mile hike into the hut is worth the effort; don't miss the side trail to the nearby waterfalls.