Here's a round up of Maine-related events that's recently crossed my desk: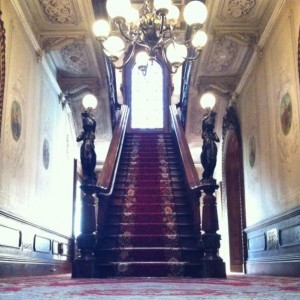 Stories on the Staircase, Victoria Mansion, Portland
You might want to sign up in advance to guarantee a seat or two on the staircase for the Victoria Mansion's museum-themed story hour for children ages 3-5. The program includes an age-appropriate tour as well as a take-home activity. Story hours are scheduled on the first three Mondays in May 2014 (5, 12, 19) at 9 a.m.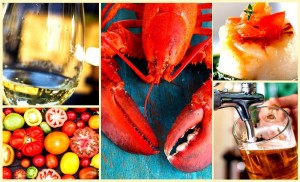 Hungry? Get thee to Bar Harbor, May 15-18, 2014, for the annual Taste of Bar Harbor food festival. Throughout the event, participating restaurants will be offering a $20.14 menu. In addition, there are some fun events:
• Dessert Night (May 15, 6-9 pm, $15). Participants take a self-guided tour of participating restaurants, sampling desserts at each, and then voting for their favorite.
• Pub Tour (May 16, 5-9 pm, $20). The entry fee nets you a beer glass, wrist band, and 10 tickets for samples. Again, sip your way through participating restaurants sampling featured beer or wine.
• Chef's Table (May 17, from 5 pm, $75): five-course dinner with wine pairings at one of four restaurants. Chefs will be giving tours and demonstrations as well as sharing recipes. Seats are limited, register early. Participants will learn their dining destination for the night during a reception at Fiore Artisan Olive Oils & Vinegars.
• Sidewalk Stroll (May 17, business hours): Participating merchants will be offering tastes of Bar Harbor.
• Local Food Producers Showcaste (May 18): This new event will highlight 50 local growers, producers and artisans with opportunities to sample, purchase, and learn. Complementing this will be the Waiter Race, a new event pitting waters against one another.
Spring Marine Mammal Stranding Response Workshop
What should you do if you see a seal or whale on the beach? Find out this Saturday, May 3, 2014, when Allied Whale, College of the Atlantic's marine mammal research group, holds its annual Spring Marine Mammal Stranding Response workshop(1-5 pm, McCormick Lecture Hall, COA, Bar Harbor). The free workshop trains volunteers in stranding response for seals and whales while also detailing what marine mammals share Mount Desert Island's shores. Emphasis will be on harbor seals and their pups, as well as health assessment.To sign up, or to learn more about the workshop, contact Rosemary Seton at rseton@coa.edu or 207-288-5644.
 The Commons celebrates 10 years
The incredibly creative and energetic women behind Eastport's The Commons are celebrating the gallery's 10th anniversary with a party on Saturday, May 3, from 1-3 pm. The shindig opens at 1 pm with  refreshments, displays, the opportunity to meet and greet gallery artists, and the debut of the Eastport Collection. At 2 pm, the celebration continues with presentation of the 2014 Common Good Awards.
Woof! Bark in the Park
Talk about putting on the dog! Bark in the Park, Planet Dog's annual fund-raising event for the Maine Children's Cancer Center Therapy Dog Program, is slated Sunday, May 18, 1014, at at Hadlock Field, when the Portland Sea Dogs take on the Trenton Thunder. Bark in the Park ticket holders sit in the 3rd base bleacher section with all access to the "birthday section" behind the bleachers. There will be a grassy relief area, wading pool, canine watering station, dog treats, and games for pups and their families. Dog valets will also be on hand to care for pets so people can visit the concessions. Slugger, the Sea Dog's mascot and Daisy, The Maine Children's Cancer Center therapy dog, will lead a 12:15 pre-game parade for pups and people, including former patients. Tickets, $10 per person and $10 per dog, are available at the Planet Dog Coompany store or online. Oooh! And get this: Every ticket holder with a tail gets a free Planet Dog Orbee-Tuff Baseball chew toy.
Spring Fling Old Fashioned Barn Dance
Kick up your heels: Mahoosuc Guide Service is opening the barn doors for its annual Spring Fling Old Fashioned Barn Dance, Sat. May 3, 2014, at the Mahoosuc Mountain Lodge in Newry. The event kicks off with a potluck dinner (bring a dish to share) at 5:30 pm. The Buttermilk Hill Band with John and Ellen Gawler take the stage for a concert at 7 pm, and the dance floor opens at 8 pm. Tickets are $12, kids under 16 are $6. No alcohol.
 Maine's First Ship Gala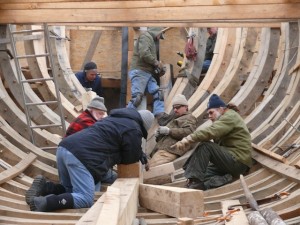 "Sailing the Arctic on the Bowdoin" is the topic of Capt. Anderson Chase, professor of marine transportation at Maine Maritime Academy, speech for the Maine's First Ship 2014 Annual Gala Dinner and Silent Auction. The Gala, slated 5:30-8:30 pm, May 13, 2014, at J.R. Maxwell's Restaurant, in Bath. Tickets available through May 8, by emailing mfs1@myfairpoint.net or call 443-4242 Monday and Wednesday mornings. Maine's First Ship is a an effort to reconstruct the 51-foot pinnace Virginia, the first ship built in North America by English colonists.